Dear Friends
On 27 April 2019, a group of student volunteers from the Singapore University of Social Sciences held a debrief and concluded that their 6-session learning programme, Project K.R.O.N.O.S., held in their campus from 16 March to 20 April succeeded in providing children a safe environment to enjoy hands-on learning. We could not agree more and applaud them for their meticulous preparation and their commitment to the belief that regardless, children will be able to learn if the conditions are right. Project K.R.O.N.O.S. focused on ensuring that children experienced a genuine sense of acceptance through healthy attachment with a mentor, whilst being challenged with hands-on activities that involved problem solving and creativity within a literacy-rich environment. The project's core mission was to spark the joy of learning and its theme was based on prototyping a capsule which could withstand a series of environmental tests.
Preparation began in August 2018 and the project's executive committee familiarised themselves with the needs of the children by visiting the neighbourhood and engaging with Saturdays@Lengkok, an existing volunteer-run learning programme. They also attended workshops on mindfulness, socio-emotional development, pedagogy and architecture and spent hours designing the curriculum. Finally, they knocked on the doors of the children we had identified, got to know them over a futsal game and pizza before inviting them to join the programme.
Sessions were 3 hours long and 14 children were introduced to budgeting, design and planning, proto-typing and reflection, knowledge of how electrical circuits work, vocabulary and presentation skills. Importantly, at the end of the programme the relationships formed, and the group's collective achievements were celebrated.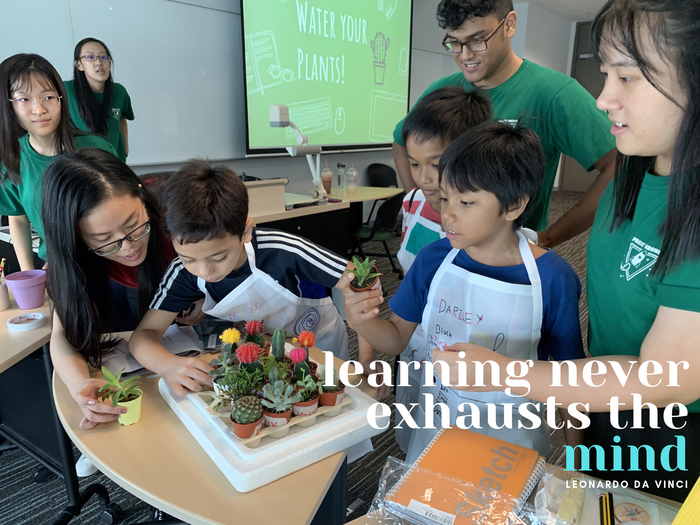 What these student volunteers had put together was impressive but what impressed me more was their execution and how they reflected on their efforts. For instance, because of the focus on assuring the children that they were accepted, "disciplining" was mindfully kept to the minimum.  In its place was positive role-modelling, humour, encouragement and affirmation.  Moreover, the children selected for the programme were not coping in school to say the least. I will share a few reflections from them to give you an idea how well they did.
"K was initially not engaged, and we had to find out what was happening. We learnt that he was constantly hungry and unable to concentrate so we provided more substantial snacks and he cooperated well. At the last session he even negotiated with his mentor for an extra week!"
"H did not take his medication and we were scrambling for strategies to help his mentor cope with his behaviour. Then we found out that surrounding him with male volunteers who patiently allowed him to express his emotions while having one female volunteer gently guide him with his learning was helpful. He was initially hard to manage but he was by far our most engaged learner hands down."
"J, S, and P spoke very little English and came across as shy and fearful. We started relating to them in their own language. Gradually, they attempted to respond in English and at week 6, they confidently asked an adult mentor whom they had avoided initially to take a photo for them."
We are deeply grateful to the SUSS volunteer team who gave these children an experience of success in learning. We would also like to express our deepest respect to Xin Yan and Leslie from Once Upon a Monday for spearheading this project and their staunch belief that cultivating a joy for learning through healthy attachment, acceptance and fun goes a long way.
Enjoy your week.
Gerard
Education is for improving the lives of others and for leaving your community and world better than you found it. – Marian Wright Edelman.