Dear Friends,
6 weeks ago, when we spoke to 200 of our members, most were jovial and about half indicated that they were coping well. As we collated our calls this week, we got a sense that the mood is now sombre. Many are experiencing difficulties with employment and are worried about meeting basic needs. Those with school going children were concerned with their lack of connectivity.

We have been responding with food and financial aid, retraining and work opportunities as well as facilitating connectivity. We requested for donations of pre-loved laptops last week and could certainly do with a lot more so please keep them coming. For Wi-Fi, apart from directing our young people to Wireless@SG hotspots we have been exploring other affordable options. Hence, we are really grateful that through the assistance of the Changi Airport Group, we have secured the loan of 10 portable Wi-Fi dongles from Changi Travel Services. Getting our programmes online begins by giving our members the basic tools to do so and wherever possible we are tapping on government programmes and resources too.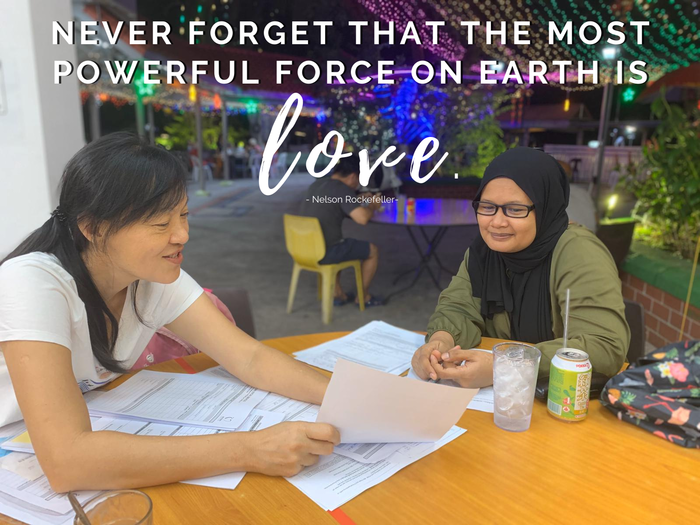 So far, we have 31 such volunteers and they are going about their task diligently as they fully understand that timely assistance is significant for a family's well-being. All these volunteers have at one point or another received financial assistance themselves and now that they are on the opposite side of a situation they are all very familiar with, this is what one of them said, "I never expected that I can help others this way but this is very difficult." To get the funds out in timely fashion, we will be training and working with more such volunteers.
Donations to our COVID -19 Response Fund have been most encouraging. We have received more than $30,000 from individuals and 2 companies, GIC Private Ltd and Vertex Venture Management Pte Ltd have entrusted us with substantial amount of funds to  keep families functioning and stable.   To disburse the amount effectively and efficiently, we are working closely with   our members to reach out to their neighbours and identify those in need of assistance.    
COVID-19 has been distressing but it has gotten us to be grateful for the many things around us that are going well. Right now, we are most grateful for the goodwill and gestures of solidarity that are turning out to be in the service of people's agency.
Wishing you and your loved ones, health and peace of mind.
Sincerely,
Gerard
"The day the power of love overrules the love of power, the world will know peace."― Mahatma Gandhi