Dear Friends,
Trust you are keeping well and safe during this unprecedented time. Immediately after the circuit-breaker was announced, we reorganized ourselves to fulfill 3 essential services: financial assistance, food assistance and connectivity facilitation. While most of the work is done remotely, food distribution requires us to be in the community. Hence, we are very grateful to our friends who have been providing us with the safety gear that keeps us safe as we go about our work.  
In the light of the stricter precautionary measures, we reviewed our operating protocols and were confident that they were good enough. During a distribution exercise the week before, we ensured safe distancing successfully and were going to just replicate our processes. However, our protocols went out the window when we were initially told that there should be no face to face meeting with our members even if we were in safety gear.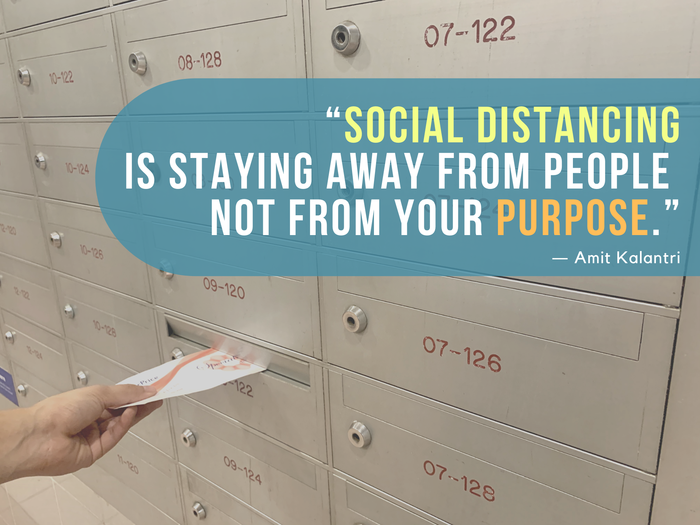 So on Wednesday, when we had to distribute food vouchers, we dropped them off in letter boxes and informed our members via a WhatsApp message after we had done so. It was simple enough and we felt a sense of satisfaction that we could still finish the job so to speak. However, for our volunteers who sort out weekly food supplies, they were extremely disappointed when told that they cannot continue doing so. They were adamant that older persons needed the supplies to survive but relented when we pointed out that it would be ironic in a very tragic way that the picking up of "survival" supplies actually led to deaths.

These volunteers lived in the neighbourhood and were sorting  food for their neighbours. It pained them that during this difficult period, they could not do what they were good at to bring a little comfort to their neighbours.   Perhaps what hurt most was having an activity that gave them a sense of  purpose and pride taken away from them. Anyway, all good now as our weekly dry rations distribution will continue. Our safety protocols are aligned with official directives and we are working with various caterers to provide a cooked meal at 15 locations at least twice a week.  Our families tell us they very much prefer to cook and so the cooked meals are meant to add some cheer during this dreary time. 

As for financial assistance some 84 families have been helped to tide over the next 3 months and we will definitely be reaching a lot more. This has been made possible by the generosity of many individuals and corporations. This week, QBE and Schroders contributed substantially to our Covid-19 Response Fund.
Finally, we are very grateful to PC Dreams for pro-bono refurbishing of the pre-loved laptops that have come our way. Many kind souls have also given toward our Bridge the Digital Divide Fund which facilitates connectivity among our members. Volunteers have rallied friends to bring in laptops and thought I mention the United World Collège who sent over 74 machines.
For Christians, today is not just a public holiday but a day of contemplation. I would like to suggest that even if we are not Christians, we can think about a suggestion put forth by author Dave Hollis, "In the rush to return to normal, use this time to consider which parts of normal are worth rushing back to." My colleagues and I do not feel rushed because your love has assured us that the normal notion of kindness, hope, connection and community have never left us.
Wishing one and all a safe and blessed Friday.
With much gratitude,
Gerard
Actually in disasters, most people are altruistic, brave, communitarian, generous and deeply creative in rescuing each other, creating the conditions for success of survival and often creating these little disaster utopias where everyone feels equal. Everyone feels like a participant. – Rebecca Solnit