Dear Friends,
Now that we are in the second phase of our reopening, many of us are settling into a 'Covid-19-safe' routine that feels normal. It is easy to let our guard down against the virus threat or to forget the contributions of our essential workers these past months. Hence, we were most heartened that 9 youth aged from 12 to 17 years old, decided to reach out to neighbours who are front line or essential workers with a gesture of appreciation.
With an interest in Origami, the Japanese art of paper folding, they decided to use their skills to create notes of encouragement. They made a list of 50 addresses and as they began penning down personal messages on a coloured square piece of paper, they felt that it would also be necessary to provide some items that are essential at this time.
Looking for some funds to do so, they approached some volunteers from Youth Corps Singapore (YCS) to join them. These volunteers had access to some funds and what began as a note of appreciation became the finishing touch for a bundle of gifts comprising 10 disposable masks, 2 bottles of 100ml hand sanitizers, some candies and assorted origami creations.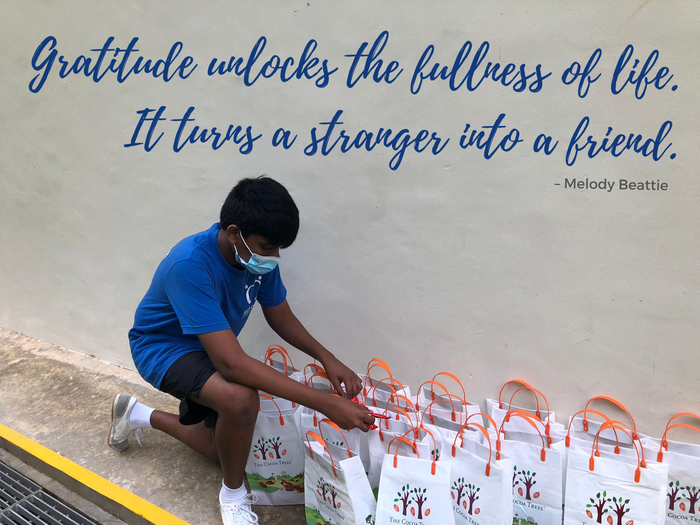 When the items arrived, the youth realised that they were unable to gather at the void deck to pack the bundle. So, two of them figured that if they were allowed to attend school, they should be allowed to pack the gifts at school. After hearing them out, the school counsellor and discipline master allotted a space and a time slot for the task to be done.

This will be a long weekend for students as the first Sunday of July is National Youth Day and Monday will be a holiday.    For us, Youth Day reminds us that the contributions of young people are necessary for building, if not transforming our communities.  Young people bring many benefits to our world, but we must give them the space, the opportunities, and the resources in every sense of the word, to do so. We are heartened by educators like the school counsellor and discipline master who facilitated a significant educational experience for our youth. 

Wishing you and your loved ones, health, and peace of mind,

Gerard

When we give cheerfully and accept gratefully, everyone is blessed – Maya Angelou