Dear Friends,
We all know that when a decision must be made, it is best that everyone who has a stake in its outcome is part of the decision-making process.  Not that everyone has a right to decide but everyone has a right to inform the decision. What happens then if the one who will be most affected by the decision is unable to voice his or her views and requests?
Last Saturday, 12 persons came together for a meeting to discuss the care arrangements for an infant we shall call Richie.  His mother has been struggling with his care and those present included neighbours, the maternal grandparents and a family that has been caring for him occasionally.  Mother was of course present, and the others were identified by her as her closest support.  However, while everyone was familiar with mother, they did not know each other, and it was the first time they were coming together as a group to offer their support. So, before the meeting began proper, we got everyone to speak with each other and to explicitly express why they agreed to be at the meeting and what they hoped to achieve. Then we got everyone to visualise what would Richie say if he could speak.
"We have all met Richie, but Richie cannot tell us what he thinks.  So, I am dedicating the chair in front of me to be Richie's chair.  When each of you come up to sit on this chair, you become Richie and tell the room things you like and dislike as well as the feelings you may have for the people in the room, which includes yourself."  As light instrumental music played in the background, different people who have cared for Richie put themselves in the chair. "I am afraid of being left alone" and "I don't want to fall off the bed" were statements that articulated a clear concern but "I am confused" was one that challenged the notion of multiple care-givers for a child. As Richie's well-being is given precedence, would it also lead him to developing strong bonds with his care-givers and eventually never wanting to return to his mother?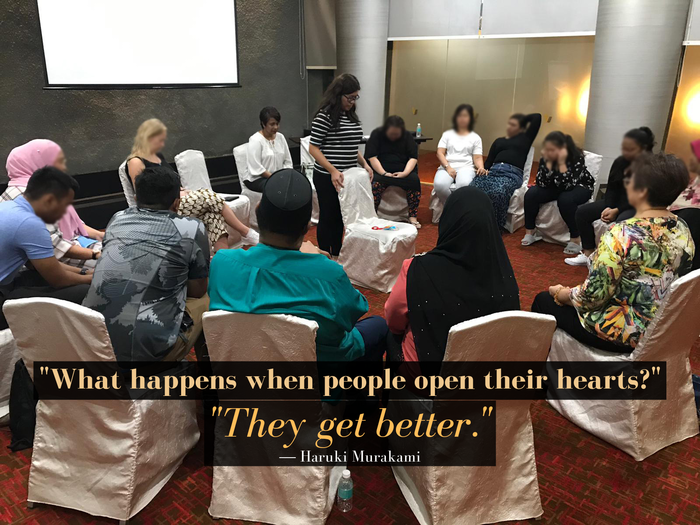 Meetings like these present dilemmas that have no obvious solutions. Strong emotions fuel strong opinions and quick responses risk taking the discussion off on a tangent. A steady, calm and respectful composure is required of all present if views of all manner are to surface and be aired. Listening to learn rather than listening to correct is crucial. Importantly, the mutual trust and belief that good sense will prevail if the spirt of cooperation is honoured.
After the purpose of the meeting was clarified and the voices of key stakeholders heard, the group proceeded to resolve the issue on their own. Following which, a schedule of care with mother playing a significant role was agreed upon. The group was confident that the arrangement did not compromise Richie's well-being in any way but will come together again in 2 weeks to review if their plan have been working.
We are hopeful that the review will be a happy reunion of this newly formed family group.
Wishing one and all a very joyous and prosperous Chinese New Year as the Year of the Pig springs on us.
Gerard
 "Vulnerability sounds like truth and feels like courage. Truth and courage aren't always comfortable, but they're never weakness." ― Brené Brown