Dear Friends
Since September last year, some of our colleagues have been corresponding with 15 undergraduates from the Potsdam University of Applied Sciences via email, WhatsApp and the occasional skype call. The communication provided the German students, a sense of the people and country they will be visiting on a study tour entitled, "Community-based child care and social work in Singapore: Exploration of Singapore as a city, as a culture, as a welfare system and as a community." It was also an enriching experience for our colleagues to welcome questions that required a reflective response about our work, their professional identity and personal motivation. 
7 of these students are training as early childhood educators while the rest as social workers and their planned arrival last Friday was not exactly smooth. A group missed their connecting flight and when everyone joined up on Saturday morning, they made their way to our Healthy Start Child Development Centre to meet our colleagues. All signs of tiredness disappeared as people who have been in correspondence   faced each other in person. It was a touching moment to see gifts presented and people speaking with each other like old friends.  It was good to see that distance need not be a barrier to human connection.
The students are here with 3 professors for 2 weeks.  Their visits include the early childhood department at the Singapore University of Social Sciences, the South-Central Community Family Service Centre and MUIS, the Islamic Religious Council of Singapore. When not on a visit, they   shadow our colleagues and support the work where needed.
At the end of each day, the students reflect on their observations and learning points together with their Professors.  So far, the early childhood students have observed that the curriculum at our Healthy Start Child Development Centre appears more varied than a German kindergarten. They also found the children happy, relaxed and confident when relating to adults. They were a little surprised at the amount of care rendered to the children which ranged from meals to bath and nap times. This was the type of care which they would have associated with families rather than a school. "But perhaps parents expected their children to be well protected," they thought as at the playground, they were instructed to stick closely to a child to minimise the risk of an accident.  After a day, our guests had the impression that "learning, respect and community" were the operating values of our school.
As for the social work students, they were impressed by how warmly, families welcomed them to their homes. The notion that these families were not service-users but members of an organisation that encouraged mutual help among neighbours was a novel idea.  When a family presents a problem, a community worker does not necessarily take on the role of a problem-solver but helps to rally support and resources that would enable the family to make better decisions. Trusting that people can decide what's best for themselves seems to be empowering and broadens one's self-image positively. One is not just a welfare recipient but a neighbourhood volunteer and a contributing member of his or her community.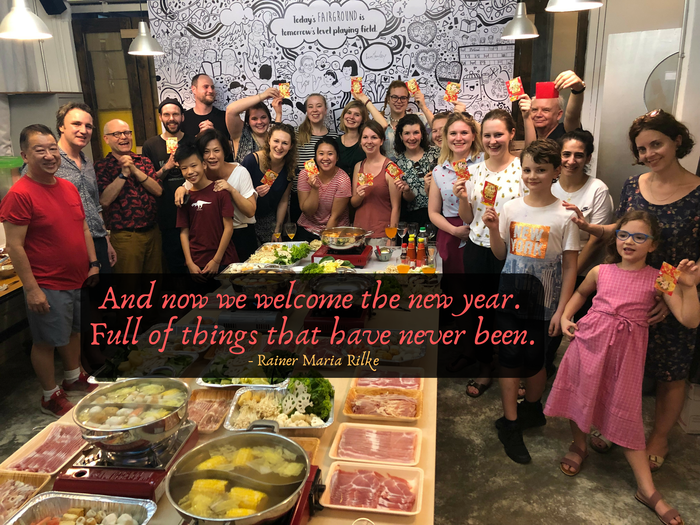 One observation that left our guests pondering was seeing how we often advise children to care for their siblings and even compliment them when they do it well.  They found it interesting how children are guided from young to care for their family as it was not their practice to do so. They were thinking it was on one hand desirable but on the other, a little too demanding on a child.   Quite certainly, there are more contexts than the one that we think is ideal.
This being Chinese New Year, hospitality is the order of the day.  It was be apt to note that as we open our doors of welcome, the good tidings that guests bring include differences that expand our experience of the world.  
Enjoy your week,
Gerard
A good traveller has no fixed plans and is not intent on arriving.  – Lao Tzu