Dear Friends,
With the support of an experienced facilitator who engages rural Indonesian communities on the issue of family planning, we organised a series of conversations which involved parents, youths and some volunteers who support them. This was not just about contraception but about the longer-term care of children, gender norms and roles as well as parents' ability to guide their children on matters related to sexuality.
"When you were born, you were naked." Parents could not help smiling when this statement of fact was suggested as a conversation starter about puberty with their children.  They were then advised to insist that their children put   their phones and other gadgets aside for 30 minutes before proceeding to elaborate how they came into our world. "Use the proper names for body parts and answer questions directly. If you find that 30 minutes is not enough, just continue until you complete your explanation. Do not stop halfway and create the impression that you are awkward and uncomfortable about the topic."
At this session, there were also youths present and   a teenage boy expressed that it was difficult to talk to his parents because they always introduced religion into the conversation, so he turns to Google for answers.  It was similar for a girl who said she "bottles up" because "dad is a guy and I am a girl. Mom has 5 kids to look after, so I don't want to burden her and rather learn about these things by myself."  Later, she revealed that she   feared being hurt by   questions her parents may ask her.
Youths do want to talk.  At another session where only girls were present, the opening activity "Two truths and a lie" got the group cut to the chase.  The revelations often centred around relationships and it was easy for everyone to differentiate the truths from the lies. This suggested that these girls have already been talking among themselves and were often seeking opinions about their boyfriends and how they were managing their relationships.   We called the session "Girls' Night" and it appears that the light-hearted feel of a social gathering was a good way to surface serious topics that left these girls heavy hearted.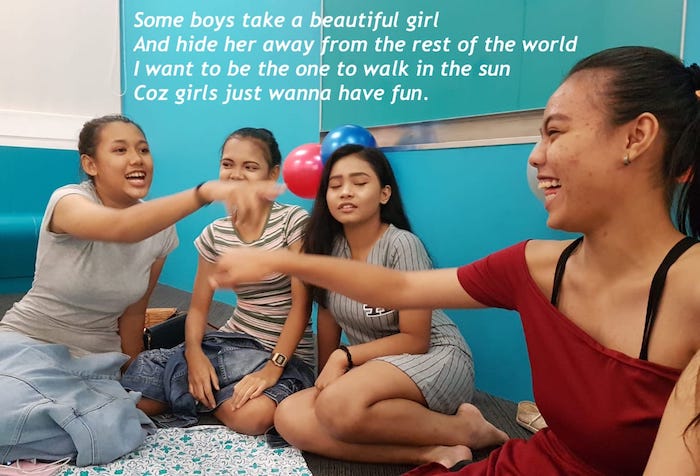 Enjoy your weekend.
Gerard
Regarding sex education: no secrets! – Albert Einstein