About 6 years ago, the residents at the Henderson Neighbourhood showed us the meaning of local leadership and how a caring community could be an important factor that kept children out of trouble.  However, like everything else, a group has a lifespan and in between its inception and its closure there are the stages of development, maturity and decline. The Henderson Caring Community did not officially close but in the last couple years, it was also not exactly active. Hence, instead of simply letting the decline move toward closure, we are heartened that a few of its   members decided to redefine the group's relevance with the support of volunteers from Youth Corps Singapore.
They felt that while the Caring Community was initiated to keep children away from harm's way, all residents would be better off if there was a friendly and caring climate in the neighbourhood.  Such a climate would facilitate cooperation and collective problem solving when needed.  So, to get things going, members of the group baked 150 bottles of Kueh Layang Layang as a gift for their neighbours. On each bottle, was the message, "A simple act of kindness creates an endless ripple."   This was a belief that the group hoped those receiving their gifts would share and   perpetuate kind acts of their own.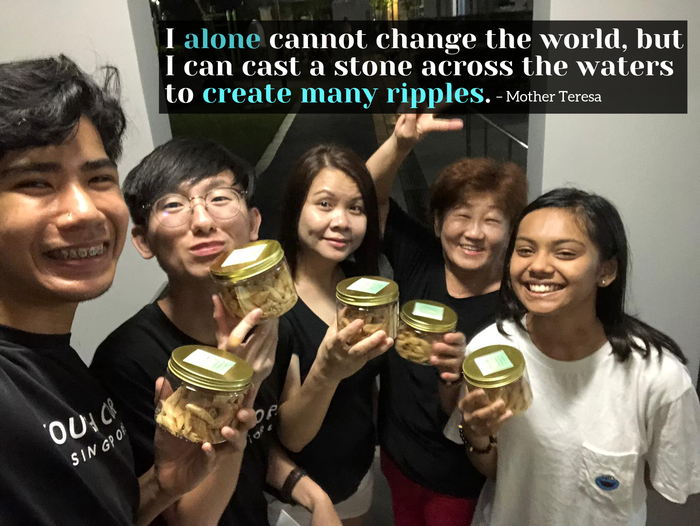 As the group went about distributing their gifts, not everyone accepted them. So how does one react when one's kindness is rejected?  With kindness of course!  Yani, a member of the group explained to us that there were times she had rejected gifts from others as well.   Often, she did not really have a reason for doing so except that it just did not feel right at that point to receive it.  So, one does not have to be offended by a rejection and there are valid reasons such as dietary restrictions, the mistaken understanding that they had to pay for the kueh and one's inability to return the favour as dictated by their culture.  Yani told us that the important thing was for the group to continue visiting their neighbours and make them an acquaintance if not a friend.
Last Sunday, before these 9 mothers and 7 youth corps volunteers set off to distribute their bottles of kueh, they had a small meal together prepared by some of the mothers. One of those who prepared the meal was delighted to be able to do so. She had just been discharged from hospital on Friday and pounding the blocks knocking on doors would have been too strenuous for her. Hence, she was glad that she could play a part in the whole exercise by baking some cupcakes and preparing a jelly desert.   For another mother who is permanent resident, being part of the exercise was special as it was the first time, she had spoken to so many people in her neighbourhood.
All in all, it appears that the Caring Community in the Henderson Neighbourhood got off to a good start and one observation why Sunday's exercise was such a pleasure for all who participated is that everyone felt that they were contributing to a better neighbourhood for all who lived there. People feel strong and good about themselves when they can be helpful, and a caring community is one where people can help together.
Enjoy your week.
Gerard
"I am of the opinion that my life belongs to the whole community and as long as I live, it is my privilege to do for it whatever I can. I want to be thoroughly used up when I die, for the harder I work the more I live." – George Bernard Shaw