Dear Friends
55 youth aged from 12 to 23 years old finished a 50km cycling trip last Saturday morning. They started off at East Coast Park at 10pm on Friday evening, headed toward Changi and looped back passing through Pasir Ris and Bedok Reservoir. They were exhausted and some had minor cuts and bruises, but they were all in good spirts and feeling rather proud of themselves.  Many   were on such a trip for the first time and finishing the strenuous physical activity was a satisfying achievement.
We were proud of them too, especially the 15 who organized the activity. These youth were from different neighbourhoods and worked as a team to plan the route, sort out the necessary logistics and most importantly, they thought long and hard about safety.  They arranged for a parent to drive the safety vehicle and the other 14 adults who joined the event took their lead and were present really more for our own assurance. I am glad to report that the adults did not need to intervene and simply enjoyed the experience like the rest of the cyclists.
Being entrusted with a responsibility and given the autonomy to execute it is an empowering learning experience.  One does not need to start off knowing everything about the task at hand, but one needs to be clear about the deliverables and be able to cooperate with others to achieve them.    The 15 youth who came together to get this cycling activity going succeeded in doing so as each gave something of themselves to ensure that they delivered a safe and enjoyable experience for all who came.  One with much experience caring for siblings and her household, ensured that refreshments were on cue. Those who took on the role of "sweepers" always had a joke or warm words of encouragement for cyclists who had difficulty keeping up. They knew how they would like to be spoken to and did the same for others.
Such an activity was immense learning also for those who were not organizing it. It was an exercise in developing independence as well as inter-dependence.  The little cuts and bruises sustained were lessons in self-care that "immunizes" one against more serious harm. Also, being in an activity that required a group of 10 or 12 to move together even when some members were older or younger, stronger or weaker is perhaps a lesson when transferred to our daily lives will be in the interest of our collective well-being.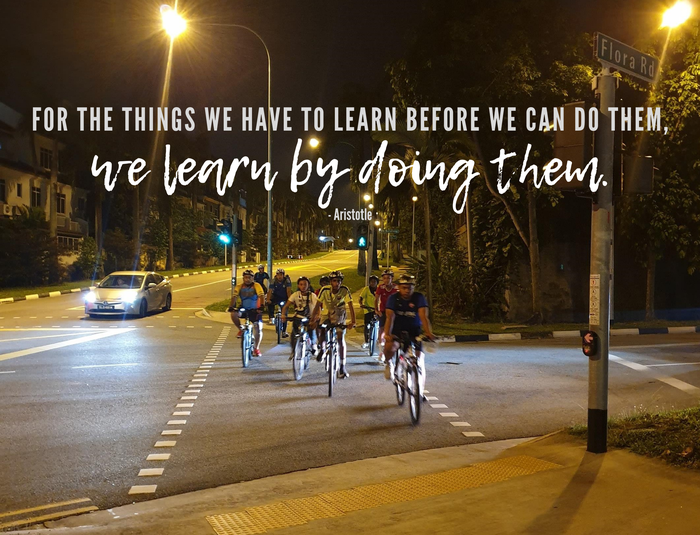 On Saturday 20 July at 1.30pm we have reserved the biggest hall at The Cathay Cineplex to screen Disney's "The Lion King."  This is the story of Simba a cub lion learning to fend for himself while in exile from his pride.   He draws lessons from his adventures and challenges and when confused and fearful, draws strength from friends who do not have his strength.  Eventually he returns to his pride to regain the throne that was once his father's.
This story of a boy developing into a successful person despite experiencing a deep trauma is one that we hope will inspire the many young people we support. We also hope that it will inspire you to support the work we do by getting a ticket or more here and being one of the first in Singapore to watch the show. If you can't make the date, a donation will help us to continue enabling young people, their families and communities to roar and claim their rightful place as contributing members of the society we are all a part of.
Please help and enjoy your week.
Gerard
"Love will find a way, anywhere we go. We're home if we are there together." – Simba