Dear Friends,
Since March this year, parents from 2   families found it extremely awkward whenever they bumped into each other. Both mothers were also involved in our baking projects, but they cooperated dutifully in the interest of finishing the work. So, it was much relief to both families that they are on speaking terms once again after attending a family group conference for the care and supervision of an 8-year-old boy we shall call Eddie.
About 3 months ago, Eddie was watching over his 6-year-old brother who was having fun on a skate scooter.   After whizzing around the playground on his own, the boy wanted to skate around the neighbourhood and beckoned Eddie to join him.  Eddie declined as he thought it would be terribly tiring running alongside someone who was cruising along on wheels.  Then he thought that it would be quite fun riding on a bicycle alongside.  He would be faster, and his little brother would have to work hard to catch up.
Eddie then made his way to the bicycle bay and picked out a new shiny one which was secured by a combination cable lock. He knew the bicycle belonged to a child and decided to try "3-number" combinations that were popular with his friends.  Ten minutes later, Eddie was happily riding alongside his brother. Time flew by quickly and when Eddie realised that he had to head home with his brother, he left the bicycle where he had taken it without refastening the lock.  A couple of hours later when he came back to look for the bicycle, he found that its tires were slashed, its seat damaged and it was no longer the attractive new and shiny bicycle he had been riding earlier.
When Ann (not her real name) discovered her wrecked bicycle, she was heart-broken, and her father filed a police report. Video footage from the police identified Eddie who is now awaiting a police decision on the matter.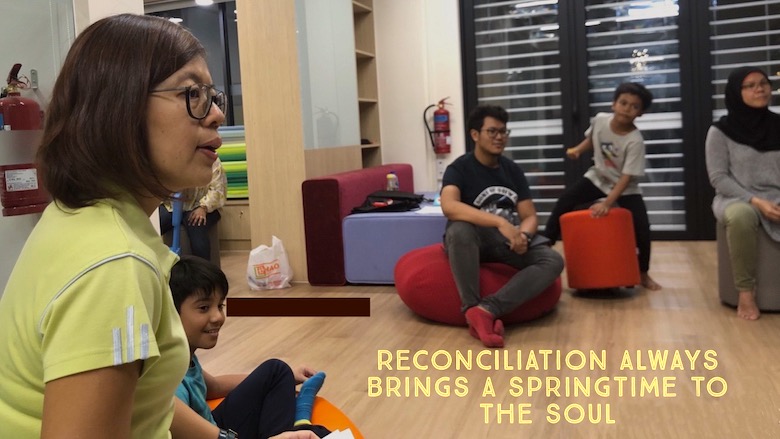 After reiterating the purpose of the conference and getting all present to elaborate why they were present, a "strengths storming" exercise for Eddie was conducted. All present listed the positive qualities that they saw in him and pinned them around his photo that was pasted on a board. Strengths included what he was good at as well as the people who cared deeply for him. This was done to impress on all present especially Eddie that while   he had committed a mistake, he was not just a bicycle thief but had good qualities that needed to be nurtured.
Ann then shared about her disappointment of having a present she had been hoping for a long time destroyed even before she had made good use of it.  This led to a dialogue and  Eddie said sorry to Ann's parents. His father then followed suit apologising for the disappointment and inconvenience his son had caused Ann and her family.   Eddie's mother also spoke of her deep embarrassment as Ann's mother had sewed Hari Raya clothes for her children.
Reciprocally, Ann's father expressed regret for filing a police report as he felt that this was a matter parents could have resolved. He felt Eddie needed caring more than punishing if he is to fulfil his potential.  Ann's mother then reassured everyone that her family held no hard feelings. She took Eddie's hand and extended a warm invitation, "You will always be welcome at my home to eat and  play with my children Eddie."
When the conference ended and people were leaving, Eddie approached Ann and her brother to ask if they will be joining a rock-climbing activity that will be happening soon in their neighbourhood.  The children had a little discussion and both Ann and her brother bid Eddie a warm goodbye as they left.
Enjoy your week.
Gerard
"If there is to be reconciliation, first there must be truth."  ― Timothy B. Tyson