Dear Friends,
On 21 Nov 2014, we received an email from Darren Tan who informed us that he had attended a kindergarten run by the Franciscan Missionaries of Mary as well as many of the activities we were running in the 70s and 80s.  He lived a stone's throw from our previous office at Block 44, Beo Crescent and was grateful for the "upbringing" he had received from us.  Hence, he was also writing to inform us that he had written us into his will.   At that point, we had just downsized the organization and were just coming to grips with fund-raising. Hence, Darren's email was a huge dose of encouragement. However, we were also much saddened when we later learnt that he had a painful chronic condition that prevents him from working.
We turned 50 in August this year and to mark this milestone, we have put together a publication entitled, "Going Beyond Social Services" that tells our history through the perspectives of different people who had passed through our doors.  These include ex-programme participants such as Darren, volunteers and staff as well as partners and those who have supported or helped further our cause. We are aiming to launch this publication on 17 October which is the International Day for the Eradication of Poverty.
Each copy cost $30 and we are collecting orders now. Please register on this link and we will come back to you. The publication was also an opportunity to engage 14 Secondary 3 students from the School of the Arts Singapore. These talented young persons interpreted the stories creatively and retold them in dance, poetry, monologues and illustrations.  Their creative responses will be featured on social media but here is an ink drawing by Chen Xilai who presented the story of Rapti, an ex-colleague who was our research coordinator.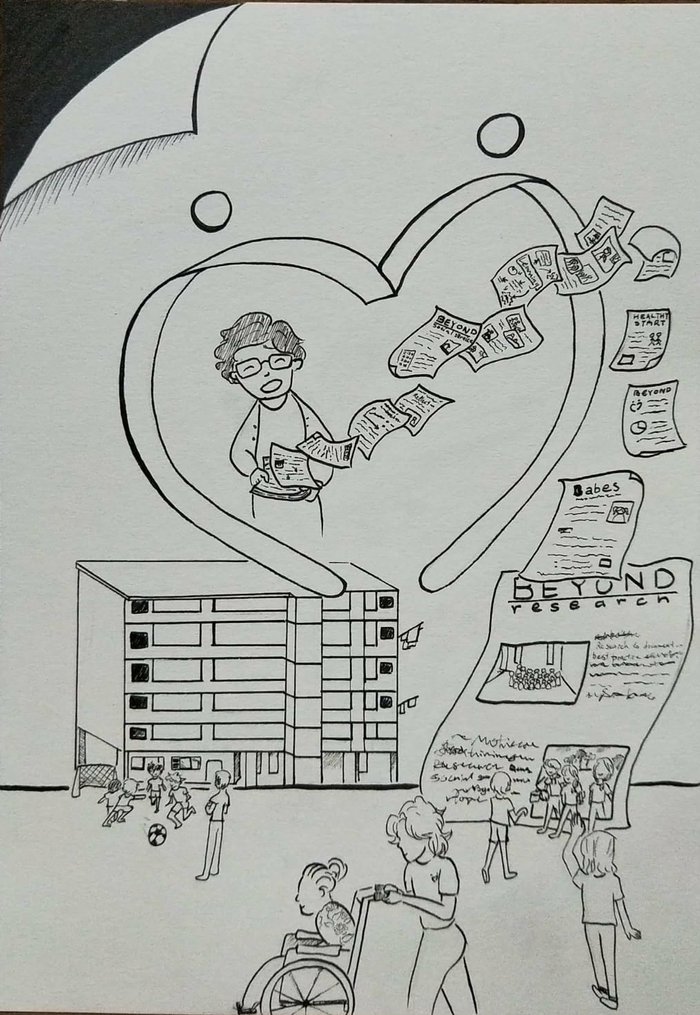 We would not have come so far without the support of friends like you who believed in what we do.   The publication is a documentation of our collective soul the past 50 years and a tribute to all who have been a part of our community. Looking forward to your continued friendship and support.
Enjoy your week.
Gerard
"From its origins as the Bukit Ho Swee Community Service Project in August 1969 to what it is 50 years later, Beyond Social Services, the organisation has broken the mould in its approach to poverty alleviation and youth development programmes, helping beneficiaries look past their current circumstances to uncover the wealth of talent individuals have and the resources they can create and share together as a community to achieve richer and more fulfilling lives. These are models of empowerment and community development that can enrich so many more in Singapore through transformative growth in body, spirit and mind." -Dr  Gillian Koh,  Institute of Policy Studies.