Dear Friends,
As the children were occupied with balloon sculpting, sand painting and paper airplanes, their caregivers put down what they wished for in their neighbourhood on little heart-shaped papers. The hearts then adorned a wall at the void deck where a community meeting was being held.  "My Dream Neighbourhood" was the theme and wishes included amenities such as a sheltered bus-stop as well as intangibles like friendly neighbours and a kampong or community spirt.  Hence, an activity many took seriously was to indicate the neighbours they called friends.
On a grid that listed every unit in the 2 blocks that the meeting was dedicated to, residents marked out their household and then drew a line to other households where their friends lived.  It was a useful exercise is visualizing the social ties and perhaps the level of neighbourliness within a locality. This exercise also got people curious about each other's friends and triggered small talk among them.
When the conversation began, people recalled their happy moments living in the   area as well as their concerns.  They also expressed improvements they would like to see and eventually formed themselves into 3 groups to explore how they may bring about a children's playground with a space for ball games, a cosy corner at the void deck where residents can mingle and a more organised  resident-led volunteer group to redistribute donated food.
Each of these groups then got down to work immediately as they articulated their requests to their Member of Parliament who had been observing the meeting unobtrusively. As he listened thoughtfully to what his constituents had to say, Mr Henry Kwek responded honestly that while feedback will be taken into consideration, the eventual outcome may still not please everyone.  Nonetheless, he was heartened to see residents caring deeply about their neighbourhood and their neighbours.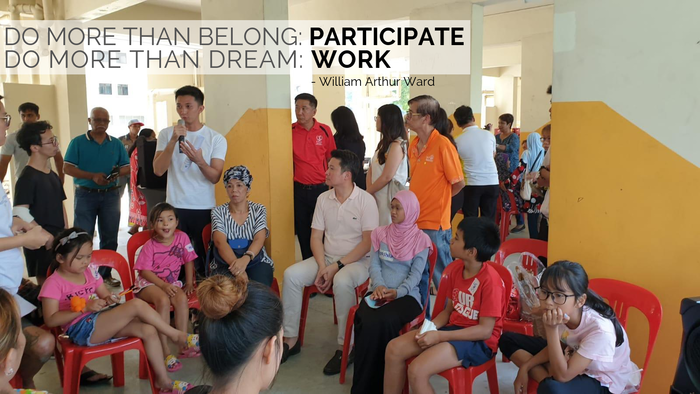 It was a new experience for residents. Many have met their MP before but this time, it was not for assistance with personal issues but about how they could help improve the collective well-being of their neighbourhood.  They are still buzzing from the encounter and the project groups are meeting again to flesh out details.
We too are encouraged by the developments, but we are mindful that we have a role in helping our members appreciate the level of participation they have in the decision-making process.  They are not just being consulted for their views but have been invited to be involved in making improvements to their neighbourhood.  Their MP has discussed the issues, heard and understood them and he will now decide how best to utilize the funds he has at hand.  Appreciating and acknowledging this reality will help pre-empt feelings of disappointment or disempowerment.
In our endeavour to increase people's level of participation in decisions that affect them, we would do well not to adopt an all-or-nothing approach. This would probably lead to partners deciding on the onset that involving our members in a decision-making process is something they will never be able to do.   Such work is an ongoing effort in nurturing mutual trust, making the best of existing structures and perhaps co-creating new ones where our members do make the call.
Enjoy your week.
Gerard
Decision-making and problem-solving processes need to involve the people most affected by an issue or problem because they have firsthand knowledge and experience. – Cynthia Gibson