Dear Friends,
My team and I thank you for the warm and encouraging wishes we received this past week. A good community comes from a collective vision of what we are building together.  In our view it is a context where people are affirmed and appreciated for who they are and are enabled and given the opportunities to experience success.  As such, a community produces caring people with the competencies to work at their shared challenges, aspirations and collective well-being.
Last night, in commemoration of our   50th Anniversary and in conjunction with the International Day for the Eradication of Poverty, we launched "Going Beyond Social Services, Safeguarding Community." It is a publication detailing our beginnings as a community organiser, our journey into social services and now very much back to where we started.  In preparation for the event, I had the honour and privilege of speaking with Sr Sabine Fernandez, the very first Project Coordinator of the Bukit Ho Swee Community Service Project which was what we were initially called.  She is 88 years old now and as I listened to her talking about  her efforts, I   could not help feeling that I would have no hesitation handing the job back to her if it was at all possible.   The spirit to serve, the commitment to social justice and the clarity of what community development is all about is all within her.   You may want to check out a short clip featuring some of what she said that was aired at our event yesterday evening.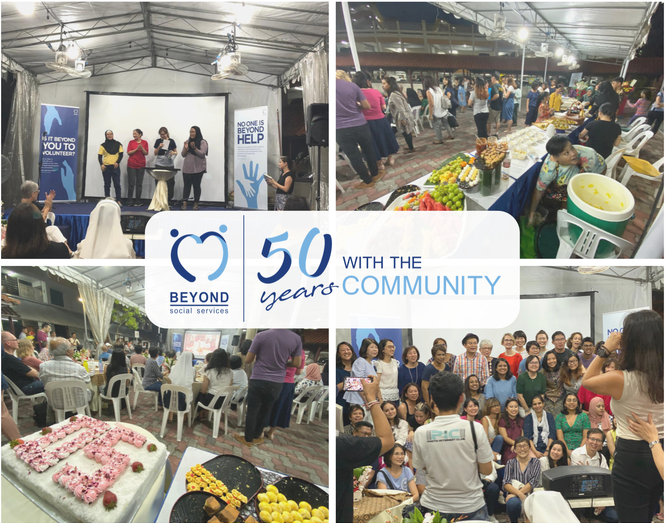 The launch was held at our office as we thought is was only right to mark our Golden Jubilee in the vicinity of where it all started.  Although things have improved much, the reason for our existence remains.  In 2018, the International Monetary Fund ranked Singapore as the 3rd richest country in the world – a remarkable feat for one of the smallest countries in the world.  Nonetheless, our relative poverty rate stands at 26.65%. while Hong Kong is at 19.9% and the United States of America at 16.8%.     The percentage of households with incomes less than half of the national median income is an approximation of our 'underclass.'
Holding the event at our office, also made it a homecoming for many who were a part of our journey. What warms our heart tremendously is that many told us that there is always a part of us in them as they journey on in their career and in life. Community creates a network of relationships that can be harnessed to tackle our shared challenges.  This was a point emphasised by Dr Ng Guat Tin who was on a panel to discuss community development. We are also deeply grateful to Dr Justin Lee, Dr Stephanie Ho for sharing what they thought of us and our work. Thank you, Justin, for recognising that for work to succeed we have to love the people who give us a reason to exist. Thanks Stephanie, for  noticing that  we create opportunities for everyone to give  and to be treated as equal members of society.
Finally, thank you Dr S Vasoo for your presence and being our Advisor all these years, thanks Eunice being such  an endearing host and all of you for honouring us with your presence and more importantly, for believing that community matters.
With much gratitude and appreciation,
Gerard
Community is not one of those things that we have to "do". Community is like a forest — you don't plant a forest. You safeguard it, and the forest grows on its own. You have to cultivate, protect, and safeguard the space. – wisdom from a member of Beyond.