Dear Friends,
Firstly, thank you for the tremendous support we received for Kumar Connects on Wednesday evening. Watching a full house at the Capitol Theatre laughing and having a good time in support of our work moved us. My team and I went home deeply encouraged and we are very grateful for your generosity and goodwill.


Having recovered from a mild stroke she suffered last year. Rusnah 60 years old, took part in a recent Deepavali baking project. As a caregiver for 4 grandchildren, she feels blessed that she is well enough to fulfill her responsibilities. In 2014, when we began Bakers Beyond, Rusnah was one of the first to join us and soon after, was chosen by her peers to lead the projects that came our way. She was grateful for the opportunity and clear about what it meant.  "We are not here to get a hand-out but to use our hands to work things out," she would remind the others and stress to newcomers.
During the Deepavali holiday, members of the recently concluded baking project held a potluck barbeque lunch to thank each other as well as the volunteers who chipped in for another successful project.  It was also an opportunity for their family to see where "mummy will be most of her time when she is not home."  In January this year (AWB – 1902), with the assistance of volunteers from Ngee Ann Polytechnic, the bakers designed what their ideal training space should look like and it was ready just in time for Deepavali.
Also present at the potluck event, were 2 mothers who are no longer part of our baking programme. Both have moved out of rental housing and run a small food enterprise to support their families. Initially, they were a little reluctant to accept the invitation but when they arrived, they were greeted warmly and assured by the rest that Bakers Beyond only offers a "life-time" membership and regardless, the friendships remain.
At lunch, Rusnah cut a cake with 9-year-old Janna, a daughter of another baker who shared the same birthday. It was a chocolate cake with cheese frosting based on a recipe the group had learnt 2 weeks ago. When the lively celebrations had toned down, we asked Rusnah how she felt about the new training space.  Because of her illness, she did not take part in the design process, but as a key member of the programme her views were important to us.  We were deeply heartened when she praised her peers for their good sense and taste in design.  She also expressed that the training space was an important representation of the progress the programme was making and it is a dream come true for her and the rest.  After years of makeshift training spaces and working at different borrowed facilities, the Bakers finally have a place they can call home and to welcome more to join them.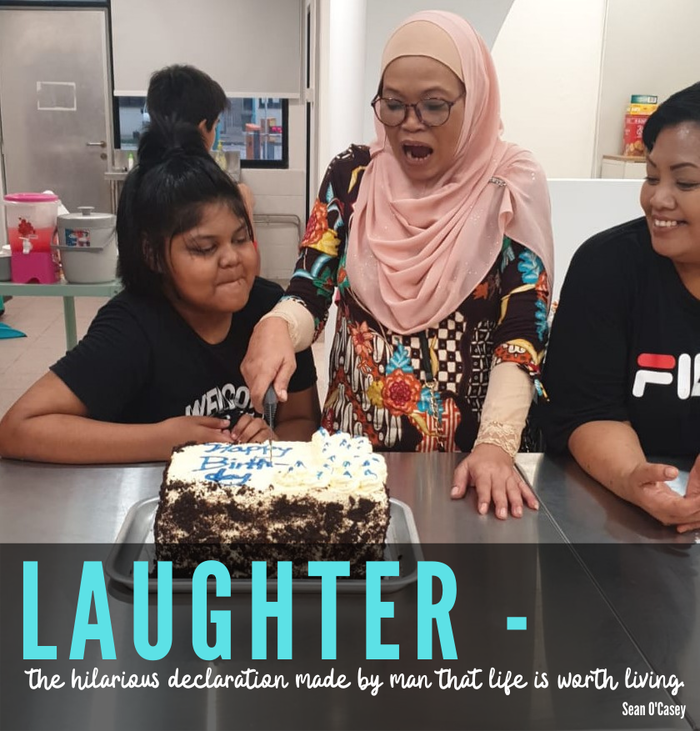 As we listened to Rusnah, we gathered that a satisfying life for her is one where she is meaningfully occupied with what she enjoys and is good at.  Where she can fulfil her responsibilities to those who depend on her and where there is much cooperation and friendship with those she works with. This new training space has enhanced her ability to lead a satisfying life and she is grateful.
As an organisation, we are grateful for the many friends who have supported Bakers Beyond these past years. There have been numerous volunteers who offered their guidance and worked alongside the mothers, each helping to enhance our capabilities.    If you are reading this, please contact me so that we can show you our new training space.  At this point, I would like to thank the corporations who have contributed significantly to sustain the programme and to bring about our new facility.  Thank you Cargill TSF Asia Pte Ltd, City Developments Limited, Expedia Singapore Pte Ltd, GIC Private Limited, Majlis Ugama Islam Singapura, Mapletree Investments Pte Ltd and Visa Worldwide Pte. Limited.  You have helped women like Rusnah  get up every morning with a purpose that keeps them going.
Enjoy your week
Gerard 
"In our daily lives, we must see that it is not happiness that makes us grateful, but the gratefulness that makes us happy." – Albert Clarke