Dear Friends,
JJ, a 25-year-old married with 2 children dropped by at our office unexpectedly to say hello. "Beyond is like a guardian angel.  People come here when down and leave when up," he mused as he got comfortable in the seat, we offered him. "Oh dear JJ, are you in some kind of trouble?" we enquired immediately. He shook his head and explained that he happened to be in the neighbourhood and just wanted to let us know how he is doing after moving out 3 years ago.
He said that he finally understood why we have been pushing him into full-time employment, the moment he got out of an institution several years ago.  For the past 11 months, he has been employed as a warehouse assistant on a 5.5-day work week and he is finding work a more manageable and enjoyable experience. Previously, as a wage worker, falling sick meant a loss of income and it was always very difficult to get back onto a job if one had been away for a short period.  Work then was intense but irregular and periods of rest were not at all restful, but anxiety filled.
With a smile, he related how he could afford a short family holiday   to Malacca and is now thinking of visiting Kuala Lumpur which is a little further.  He is also thinking that together with the CPF contributions of his spouse, the family could apply to purchase a 3-room flat in 5 years' time. We were happy to hear what he was saying but were also wondering why it took him so long to choose full-time employment over opportunities in the gig economy. Perhaps the pay was better, and the flexibility enabled him to fulfil his obligations as a parent. Or perhaps, having had a troubled childhood, he did not dare to aspire less he is disappointed once again.  Whatever the reason, we are heartened that JJ now recognises that a job should offer some protection and progression opportunities. Recently, he succeeded in getting a $75 raise from his boss and is now looking forward to his first year-end bonus which he reckons is fully deserved considering the hard work he had put in all year.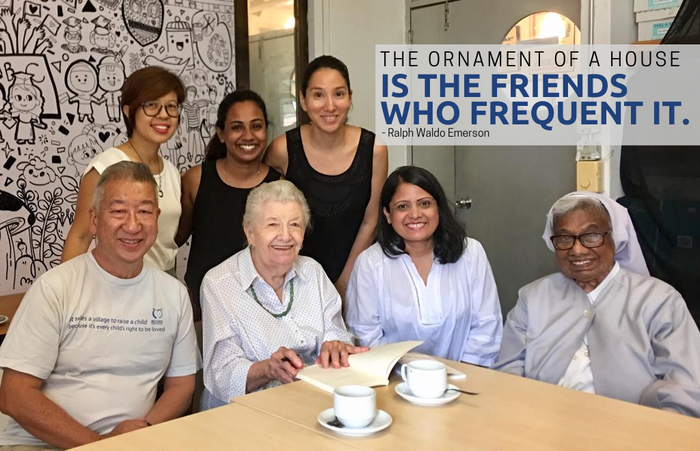 We also received a visit from Sr Sabine Fernandez our very first Project Coordinator and Professor Ann Wee who is often described as the founding mother of social work education in Singapore. Both  inspired us with stories of a time when poverty looked very different in Singapore.  Prof Wee referred to Sr Sabine as  "Missy Tikus"    a term of endearment conferred by the residents  who were grateful for her assistance in resolving the issue of rat infestation in their neighbourhood.   As they shared their stories, I could not help feeling their genuine love for the people they encountered and how they absolutely took no offence with the way they were described.  They laughed easily when they recalled being called "Jiak Kentang" which literally means "those who eat potatoes" and implicitly "those who do not eat rice and have little understanding of Chinese ways."
Both never allowed differences in cultural and social backgrounds to deter them from connecting with others or prevented them from being a helpful presence in the lives of the vulnerable.  Such conviction in the worth of another must be the hallmark of social work and arguably the one thing all social work students should be able to demonstrate at the end of their training.
Enjoy your week.
Gerard
When you meet another man's culture, take off your shoes. Lest you tread on another man's dream – Max Warren