Dear Friends,
In August this year, youth from our Community Theatre programme presented "The Block Party" at the Esplanade as part of the M1 Peer Pleasure Festival. This play showcased vignettes of poverty as experienced by those residing in a public rental housing neighbourhood. This week, as a follow-up activity, we hosted a conversation about poverty involving 37 persons, comprising mainly youth from different strata in society. The aim was to hold a safe space where questions and perspectives about poverty deemed to be offensive or insensitive can be discussed authentically in the spirit of mutual understanding and respect.
To break the ice, participants were assigned the name of a fellow participant and tasked to return it to its rightful owner and to recover their own. Not everyone succeeded in doing so and the exercise surfaced pertinent discussion points. One who did not succeed commented, "I was so focussed on listening carefully to the person in front of me that I forgot about the objective of locating my name." The group felt that this was akin to how the poor are so caught up with their immediate concerns that they do not have the bandwidth to consider longer-term plans.
Another participant commented that not being able to locate her name felt like she was being erased from the group. She wondered if the lack of discussion about poverty had the effect of making the poor invisible in our midst.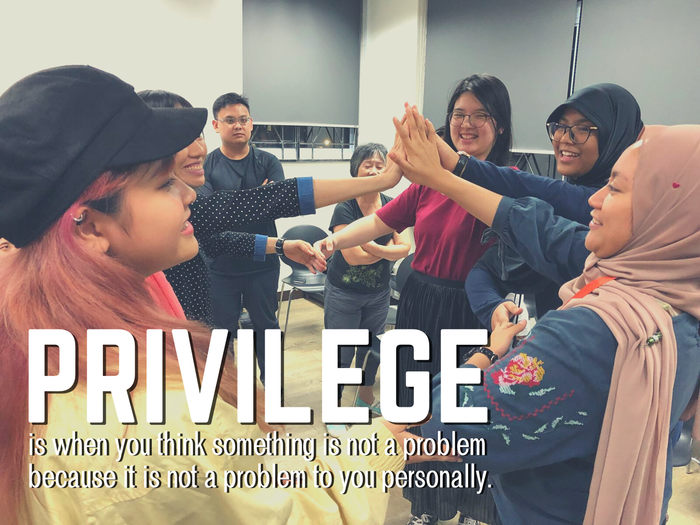 It was a roomful of thoughtful people who spoke their mind in good faith. In groups of 6, participants discussed topics such as large families, the lack of success in school and home ownership. Not all questions were directed at the low-income and honest answers emerged from one group that reflected on the question of privilege. "My parents worked hard so that I am now financially comfortable; they should not be blamed and people should not be jealous of persons who are better off; I have friends who are not as financially well-off yet they attend the same school as me and have access to the same education," asserted one young person.
We were mindful that the conversation must never be a platform for guilt tripping, to criticize, to promote envy or basically to sow discord among people. Hence, it was reassuring that the message of solidarity was conveyed in different ways when the groups were asked to form themselves into a sculpture. It was also heartening to hear several thoughtful observations at the close. One observed that questions for those from rental flats were directed at the individual and sounded accusatory whereas the others had questions posed to them as a group. Another observed that everyone in his group seemed to agree with each other. This made him wonder if there are 'truths' that were not revealed because people were too similar.
As we hold space for authentic conversation, we cannot promise perfection, but we promise a genuine endeavour to bring about mutual respect, understanding and goodwill. We are having another run tomorrow and if you are interested to join us, please sign up here.
Meanwhile, wishing you every Blessing this Season of Goodwill brings.
Gerard