Dear Friends,
Several greetings that I received the past couple of days alluded to 2020 being a year of vision and so before I go on, I wish you a clear, purposeful and Happy New Year.
In collaboration with the Kampong Kapor Family Service Centre, we engaged 21 youth in a drama workshop over the past 2 months. "Youth Stories" created a safe space for these young people to share their day-to-day experiences as well as their challenges, fears and concerns.  Last Thursday, they put together a short performance for their caregivers to highlight the risk of getting entangled with substance abuse. The scenarios they enacted were based on personal encounters and they hoped that the performance would be a way of expressing their needs to their caregivers.
After an opening scene where a youth named Halimi was arrested by the police, the entire cast came together and echoed, "This is a story of a youth; Actually, a story of us; We are Halimi." The following scenes then showed how his family, neighbours, school and friends tried reaching out to him. Attempts followed a pattern where friendly advice turned into admonishment and rejection with some of those reaching out to Halimi declaring that they had done their best and he deserved punishment and other consequences.
Substance abuse strains the relationships between the abusers and those who care for them.  There is a sense of helplessness among all concerned and the youth captured this succinctly when they began their last scene declaring, "We wanted to help him but we couldn't; He wanted to help himself, but he couldn't."  It is situation that calls for a vision where the well-being of all concerned matters. It is also a vision that acknowledges how our actions may be pushing young people to the circumstances we are trying to steer them away from. In the play, Halimi told his teacher that the school had taken away his chance to make good when they expelled him.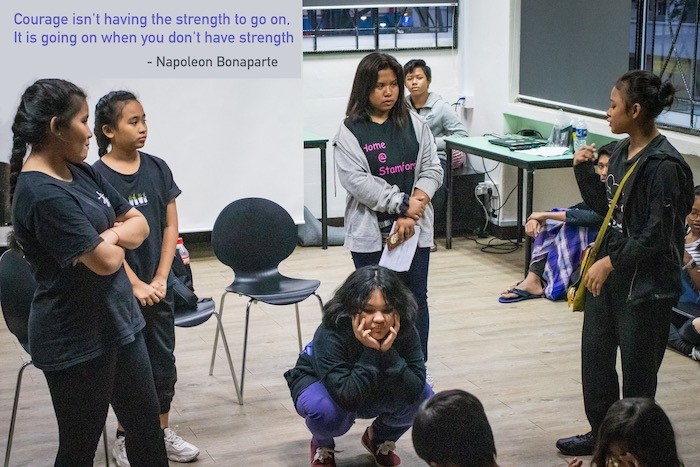 The youth closed the play with a plea for encouragement, "Sometimes all we need are words of encouragement; Actions of love for the day; just for today. It's enough for us all." It was a modest request as they left the room for refreshments and their care givers gathered to discuss how they could continue to keep their children out of harm's way.   These caregivers spoke about the importance of nurturing positive relationships with their children and supporting their involvement in healthy activities such as drama, sport and such.
We were trying to encourage these caregivers to assume leadership for some neighbourhood activities as it is our vision for people to lead the improvements, they want to see within their families and friends. However, as I listened, I could not help feeling that as they shared their opinions, they were also hoping that we would act on them to bring about appropriate programmes and services that would keep their children safe.   It was humbling to be reminded that our visions only become realistic when they are shared by the very people they are meant for.
Once again best wishes for the New Year and the decade ahead. As we work toward our vision for a better future, may we never lose sight of the realities in the present.
Gerard
Your vision will become clear only when you can look into your own heart. Who looks outside, dreams; who looks inside, awakes. – Carl Jung