Dear Friends,
Some of us wear a tracker or use a smart watch to monitor our activity level and to spur ourselves toward a healthier lifestyle. Having an awareness and understanding seems to encourage us to act on our fitness goals. In the same vein of facilitating informed action, we are supporting residents of a public rental neighbourhood to discover the health challenges and aspirations of their community. We are training these residents to speak with their neighbours and to help paint a picture of the health-related needs of their community. This picture will then be shared with the community in the hope that residents will generate action or programmes that improve their collective health.
In partnership with the South-Central Community Family Service Centre, we held our first training session on Monday. 15 residents showed up enthusiastically and it was heartening to see them confidently interacting with 17 students from the Singapore Management University who are also working on this research project. Both the residents and students took turns to practice their interviewing skills and hearing them acknowledge the talents each brought to the exercise was gratifying. The students were comforted that partnering with a resident will enable them to engage those who could not speak English while the residents were glad the students were competent note-takers. Teamwork was needed and the diversity of people in terms of age, ethnicity, life experiences and abilities provided the range of competencies needed for effective interviewing teams.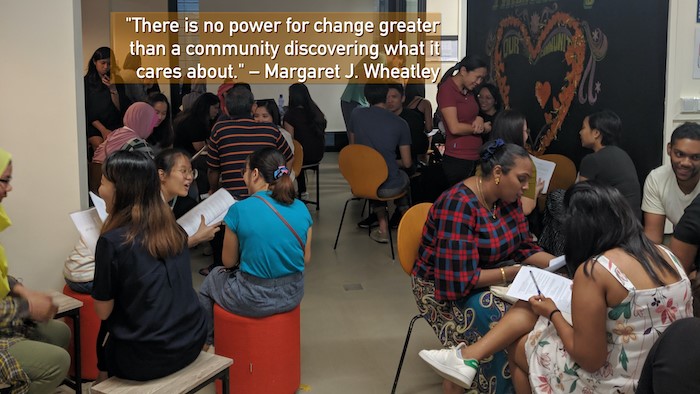 The majority of those living in public rental housing do not have the privilege of a tertiary education but that should not preclude them from being friends or working together with those who have. Hence, we take much satisfaction in nurturing cooperation between academia and the communities we work with because both benefit as a result. The educational institutions provide their students a learning opportunity to engage and be of value to those from the larger community; who in turn, become co-producers of knowledge that would be of value to academia. This two-way relationship builds a sense of solidarity among diverse groups of people that can only be good for the social cohesion that benefits us all.
Enjoy your week.
Gerard
Collaboration allows us to know more than we are capable of knowing ourselves. -Paul Solarz