Dear Friends,
The women in our baking programme checked every box of mandarin oranges carefully before including them as part of a Chinese New Year hamper they were preparing. They soon discovered rotten oranges as well as boxes that did not contain the full complement of 18 oranges. They carried the boxes back to the mini-mart and got the shopkeeper to put things right. "It is the new year for our Chinese neighbours, and we want to give them the best fruits," they maintained.
12 Malay women participated in a project to prepare 100 festive hampers sponsored by GIC Pte Ltd. Apart from baking the traditional cookies themselves, these women designed and sewed canvas bags to hold the oranges and all the other goodies in a neat red auspicious bundle. It was really encouraging to see these women taking on the task with much thought and care. Perhaps, you may say that there were just taking pride in their work but what we saw was a genuine desire to ensure that those receiving the gift were cheered. They told us that receiving a festive gift meant a lot to them and they felt a responsibility to reproduce a similar positive experience for others.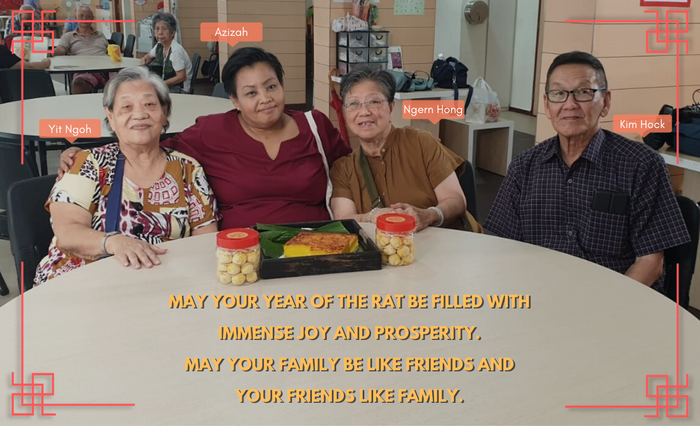 Azizah, 48 years old was part of this project. With her own money, she prepared an additional set of cookies for her Chinese neighbours. Azizah receives a modest allowance cleaning a senior activity centre that her late mother attended and as a result, has become a familiar face for those who frequent the facility. These 3 neighbours are in their 70s and she regards them as family because they were good friends with her mother. Importantly, when her mother passed on, she found much solace in their company.

When we accompanied Azizah to deliver her gifts, we were touched by the warmth these neighbours offered each other. In a mixture of Malay, English and Chinese dialect, affection and respect for each other were communicated. These older people joked that they only treated Azizah well because she was an excellent cook and they looked forward to her regular treat of Malay cuisine. Azizah's rejoinder was that that older people can be very demanding. The good-natured teasing was uplifting, and it reminded us that we have it in our nature to be good to each other.
Wishing you a very joyous Chinese New Year festival and a joy-filled Year of the Rat.
Gong Xi Fa Cai.
All at Beyond
Festivals promote diversity, they bring neighbours into dialogue, they increase creativity, they offer opportunities for civic pride, they improve our general psychological well-being. In short, they make cities better places to live. – David Binder