Dear Friends,
We used to have a residential facility that operated as a small-group home and at times, a retreat centre for families to make decisions about the challenges they were facing. Upon welcoming these families, we would tell them that if they needed a piece of furniture or a home appliance that was at the premises, they should let us know and we will send it over to their home. You see, our facilities are mainly furnished with pre-loved items that are constantly coming to us through a goodwill pipeline from the larger Singapore community and giving away what have makes room for new gifts to flow in. So, in a way, we were reducing waste and promoting the value of thrift.
We no longer have this facility and so, the pipeline for bulky furniture that does not fit into the homes of our members is closed. We no longer behave like delivery workers in a furniture showroom and when we match household appliances to our members, we would request the giver and receiver to be responsible for transportation and movers where possible. We also cooperate with Willing Hearts and the Tzu Chi Foundation on recycling efforts as well as several formal and informal groups that promote the reuse of pre-loved furniture.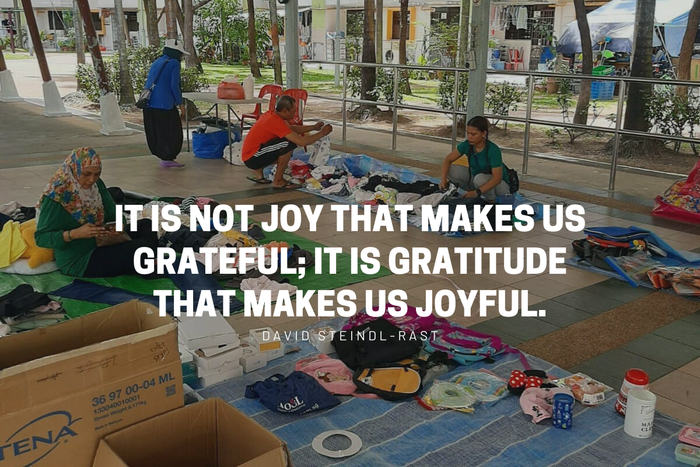 Volunteers play a big part in the redistribution of pre-loved items and the care we take in handling them demonstrate the values we hold. If we are throwing the items around like junk, we run the risk of positioning potential recipients as scavengers in a rubbish dump. Hence, we are always grateful for donors who ensure that whatever they are giving away is still something presentable to themselves if they had a need for them.

Last Saturday, Shidah, a mother of 4 collected the pre-loved items that came to us in the last couple of months and laid them out nicely at a common area in the vicinity where she lived with the help of her friends. She believed that she had publicized this "free market" well to her neighbours and friends from nearby neighbourhoods and was expecting a crowd of 200. However, she soon realised that people were concerned about the threat of the corona virus and immediately decided to direct those that showed up to the mask collection centre nearby.
Eventually, neighbours showed up and probably because word got around that they could pick up their masks as well. As for Shida, she collected the remaining items and sent out the message that those who had wanted to avoid a crowd that they could still pick up some things at her home. Shidah tells us she organised the event as a way of encouraging mutual care and concern among people and this also means appreciating what people are most concerned about. It is a worrying time now and she felt that putting aside the items for those who did not come was just small gesture to lift spirits.
Wishing one and all health and peace of mind,
Gerard
"Love and peace of mind do protect us. They allow us to overcome the problems that life hands us. They teach us to survive… to live now… to have the courage to confront each day." —Bernie Siegel
P.S. Please note that this message is not a call for donations. Our efforts are driven by the requests from the families in our membership and we take into consideration their needs and preferences. When we receive an offer of a donation, we need 2 weeks lead time to pull together the volunteers and other logistical support to get the item to the recipient.