Dear Friends,
We are gradually restarting our learning programmes as we now have thermal thermometers, sanitizers and a limited supply of surgical masks that enable us to take the necessary precautionary measures. For these resources, we thank the many organisations and individuals who reached out to us asking how they may help. We were touched by the concern and encouragement of many and their practical gestures such as asking family and friends living overseas to secure a thermometer on our behalf.
Just before a homework support programme began, we had to stop an enthusiastic volunteer from entering our premises. She was running a fever and after a second reading was similar despite having rested for a few minutes, we advised her to see a doctor immediately. A straightforward procedure one may say but we actually found it uncomfortable stopping someone at the door. For those who were already inside, there was both concern for the volunteer and an awkward feeling that one could have been exposed to an infection.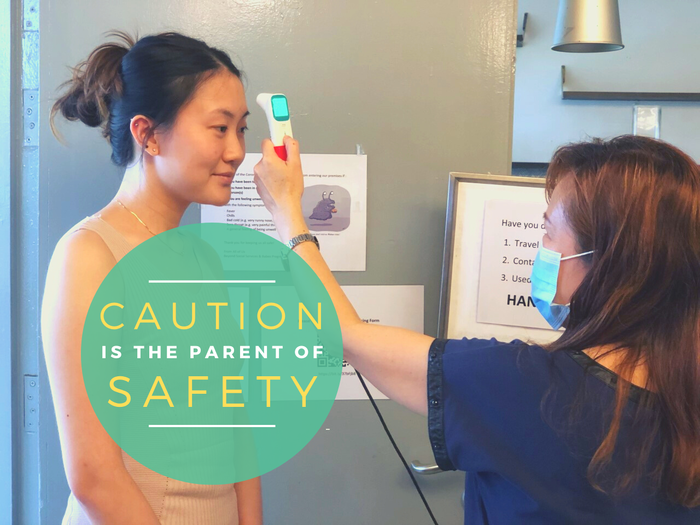 The volunteer left to see a doctor and when we called to check on her, we were relieved that she was already feeling better after some medication and she was not miffed by the experience. She told us that she felt fine when she left her home but started feeling a little uneasy when she arrived at our place. She certainly would not have come if she had felt ill at home and was quite glad that we got her to seek medical help before she got sicker.

So why did we find it uncomfortable stopping her at the door? We were only doing the right thing and so, were we uncomfortable exercising authority? Or we were afraid to offend someone who only meant well? Perhaps we were fearful of being infected and a little angry why this person would put us and a roomful of children at risk. As we found out later, the volunteer did not think that she was ill because when she checked her temperature before leaving home, she was well.
These past weeks have been pressing because as much as we try, life as we know it is different and our work has taken on the emphasis of caring for those affected by the COVID-19 situation. We are encouraged that help has been forthcoming but also cannot help thinking that in moments of vulnerability, we need to do something to regain a sense of normality.
Some of us may take steps to protect ourselves and our loved ones while others reach out to assist or to support the efforts of helping agencies. Caring for others should always be applauded but let's not criticise those who feel that they must attend to their own needs first. Instead, if there is anything that helps ease these pressing times, it would be a little love, care and understanding for each other.
Wishing you health and peace of mind.
Gerard
"Nothing in life is to be feared, it is only to be understood. Now is the time to understand more, so that we may fear less." ― Marie Curie