Dear Friends,
"In school, you're taught a lesson and then given a test. In life, you're given a test that teaches you a lesson." This is the difference between life and school articulated by author Tom Bodett.  As of midnight today, all gatherings outside school and work are to be limited to 10 persons or less as directed by our multi-ministerial task force against COVID-19. Hence, "How do we continue to support children with their schoolwork?" was a test and the answers emerging are the lessons we are learning.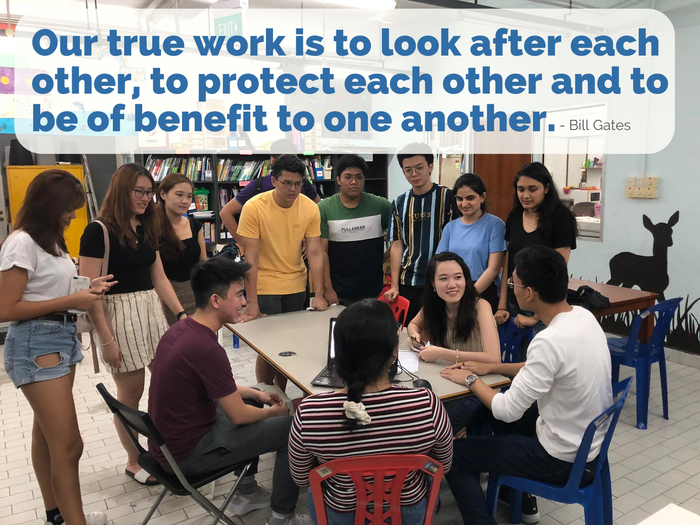 Before sorting out the practicalities of tutoring via a face call, a group of volunteers asked their class of 19 children what they knew about Covid-19 and how it was affecting them?   Everyone was aware that it was a virus that would "make us sick" but the gravity of the situation was not apparent on their faces until one of them said that she was afraid for her parents because as waiters, they had to "meet many people every day."   Another then expressed a fear that there would be no food at home if his parents were hospitalised and a few others wondered if they needed to have an ample supply of masks and sanitisers at home. 

When life seems so out of the ordinary as it is now, talking about the obvious to children brings comfort and even important information that we regard as obvious. "Yes, we do need to be careful about washing our hands and staying away from others who may be sick," was not a message our volunteers initially thought they had to introduce or emphasise. They were thankful that by talking through COVID-19 with their students, they got an appreciation of these young people and their lives outside the classroom.
They also found it humbling that arranging for virtual tuition was not so straight forward. While Wi-Fi hotspots are available near their homes, few had laptops. These volunteers will now be discussing with their students' caregivers to find a solution and to show them free online learning resources they could get on their phone. Meanwhile, to facilitate remote learning, we are seeking donations of used laptops and personal computers with monitor, keyboard and mouse that runs on with Windows 7 and above. To make that donation please click here. Our volunteers from Xpointo Media will be helping to coordinate the exercise.
Wishing you and your loved ones, health and peace of mind.
Sincerely,
Gerard
(COVID-19) is reminding us that we are all equal, regardless of our culture, religion, occupation, financial situation or how famous we are. This disease treats us all equally, perhaps we should too. – Bill Gates