Dear Friends,
With the assistance of Lalamove, an approved courier who provided their services pro-bono, we delivered 41 computers and 7 portable wi-fi dongles this week.    In total, we have given out 122 computers and 81 dongles. While school holidays begin today and home-based learning takes a break, our efforts to bridge the digital divide will continue as digital inclusion is very much social inclusion.  2 days ago, in a Channel News Asia feature entitled, Home-based learning blues: Life in a rental flat during the COVID-19 circuit breaker, a mother was quoted "In my heart, it is not cramped. We are thankful to have a roof over our heads."   I was much moved by her capacity for gratitude but obviously, space whether physical, virtual or within our hearts and minds is precious.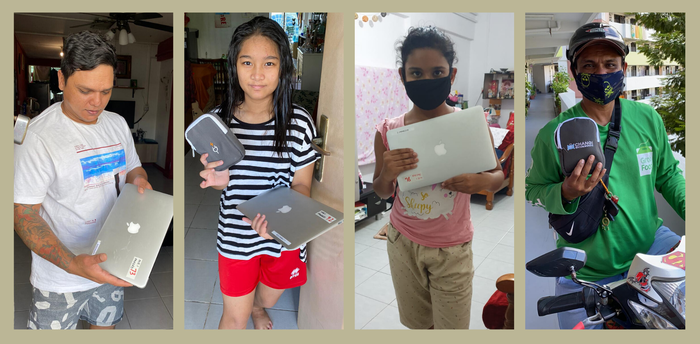 12 mothers were discouraged when stricter precautionary measures announced last Saturday, prevented them from proceeding with a home-baking project that would have given them some income to meet family expenditure during Ramadan. Thankfully, 6 of them have reasonable sewing skills and they received a sewing machine from Sew-Forth, a corporate social responsibility initiative of Artelier Furnishing and Aratamete Interiors. They have now taken on a project to sew reusable facemasks where 100% of the proceeds will go to them. The first order they are fulfilling is going to a residential facility for older persons. If you like to support these mothers, you may order your masks here from Monday, 4th May 20. As for the other 6 mothers, we are helping them with job placements and 1 has already found work.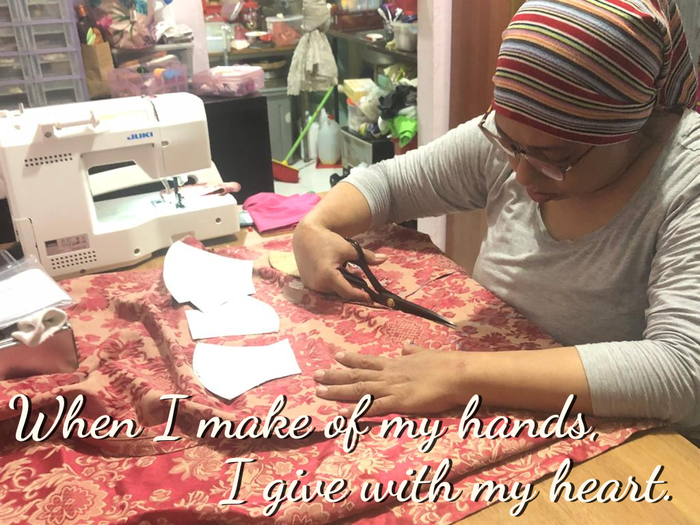 On Tuesday, my colleague Hooi Boon was on Capital 958 radio sharing about the impact of the circuit-breaker on our members. Following the programme, several older persons called us asking for food. For those residing in neighbourhoods we are not operating in, we linked them with Lions Befrienders who has an island-wide Befriending Service reaching out to seniors at risk of social isolation.  The pooling of resources is essential if we are to meet needs efficiently and effectively.  
This week we distributed 8,546 meals and 410 food packs to 14 different locations and while we have at least 25 individuals and corporations who made this possible, we would like to mention our cooperation with Project Makan which is an initiative of the Social Kitchen at the YMCA and SHINE Children and Youth Services. When we started working together a week ago, they provided 208 meals but as of yesterday, they have committed to providing 1,054 meals daily for 5 days a week and will continue to do so till the end of the circuit breaker. We are also very grateful to Love Connect, a government grassroots volunteer group in North Bridge Road for distributing food daily to residents. Our volunteers there are mainly older persons and precautionary measures do not allow those above 60 years old to help.
Finally, at the end of April a total of 300 families have been registered with our Covid-19 Family Assistance Fund. We will continue to systematically reach out to more families and to date have committed $286,870 for 255 families. 100% of donations to our Covid-19 Response will go to families who have suffered a substantial loss of income.
Today is Labour Day. Let us spare a thought for daily-rated low-wage workers without employment benefits, many of whom currently have no work or income.
Wishing you, health and peace of mind.
Sincerely,
Gerard
No work is insignificant. All labour that uplifts humanity has dignity and importance and should be undertaken with painstaking excellence. – Martin Luther King, Jr.