Dear Friends,
During the circuit breaker we were in touch with 235 persons who were unemployed and looking for work.   We kept them informed of job opportunities and linked them to resources provided by the government, the labour movement and other non-government organisations.  Most job applications were online and several needed assistance navigating e-portals as well as putting together simple resumes to upload.   Our actions offered these members some comfort but those who have been unable to nail down a job would   probably feel much discouraged. 
From speaking with these jobseekers, we also learnt that distance to the workplace is an important factor for accepting work. They cannot afford long commuting time that will take them away from their care-giving responsibilities. COVID-19 has taken away several jobs, but it has also created a demand for work related to the containment of the virus spread. Such work is mainly within medical and community care settings and they pay relatively well. We put these opportunities out to the job seekers, but several told us they could not risk getting infected because they were the sole breadwinner. Also, the possibility of infecting their family members was a frightening thought as it would only make life more worrying.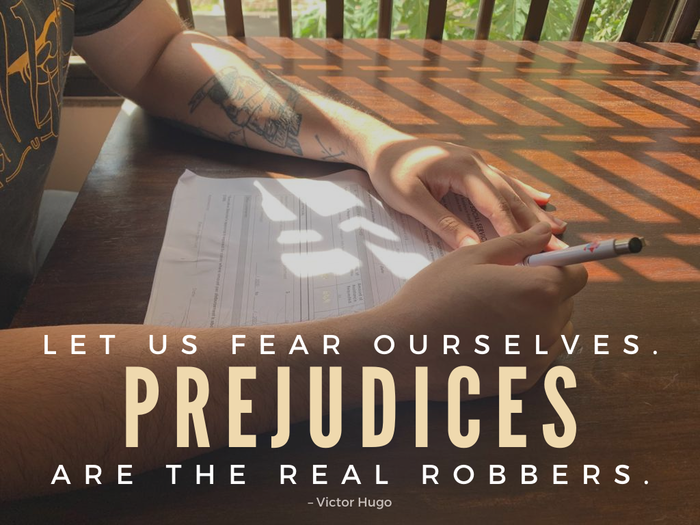 Nonetheless, we had 2 men who jumped at the opportunity. Both had trained for jobs in the food and beverage industry when incarcerated. However, they were always reluctant to take on such work for fear that they will meet acquaintances who are likely to get on the wrong side of the law. Both believed deeply that every effort to disassociate themselves from their past improves their opportunity for a new life away from crime. "I can't afford to be getting into trouble because at my age, the next time I may leave prison zipped up in a black bag," one of them put it starkly.

This man interviewed for a housekeeper post at a community care facility. His interviewer was happy to take him on but stopped short of offering a contract after he declared his past infractions. He explained that for those with a prison record, it was not up to him but for his superiors to decide.
A gentle rejection is still one, but this man remained upbeat and attributed his resilience to First Step, a programme in prison that helped him become more self-reflective. He was quite good at doing so and was trained as a facilitator for fellow inmates. He then offered to conduct the programme for us as a volunteer.
His warm reciprocity for our assistance touched us but we need to learn more about the programme before giving him an answer how we may deploy his expertise. Nonetheless, we could not help thinking that if only he could facilitate our society to be more reflective on our treatment of people like himself.
Wishing you and your loved ones, health, and peace of mind
Sincerely,
Gerard
"One of the saddest things in life, is the things one remembers." ― Agatha Christie