Many years ago, my boss hosted dinner during a stay-in planning retreat.  He started the dinner conversation asking my colleagues and I to share what we loved most about Singapore. I told him "the trees" and got on with my dinner but eventually all of us put aside our cutlery as he revealed the reason behind his question. He said that he would find it hard to see how anyone could do what we do if there was nothing we loved about the country.
Most of us did not think much about his comment as we felt that we were just doing our job, but I guess he had a point as caring for those around us is caring for where we live.  This year, my colleagues and I were deeply touched by the numerous offers of help for those affected badly by the pandemic. Well-wishers offered their skills, energy, funds, and influence generously.  There were more than 40 online campaigns on our behalf, targeted at personal and professional networks to raise money for digital resources, financial, and food assistance. Basically, when we all had to step back from our busy lives, countless stepped forward to be counted. I still love the trees, but it is this solidarity with the "least" among us that I am most proud of.  
National Day is a reminder that moving forward together requires a unified sense of purpose. I would like to think that this is not just about those who have more, caring for those who have less, because unity is more likely to come when many believe in a shared responsibility for each other rather than from the benevolence of a few. Unity helps us to prosper together and, perhaps more importantly, comforts and strengthens us in times of hardship. Unity is also built on the belief that we are all contributing toward our collective wellbeing and our contribution is fairly acknowledged and compensated.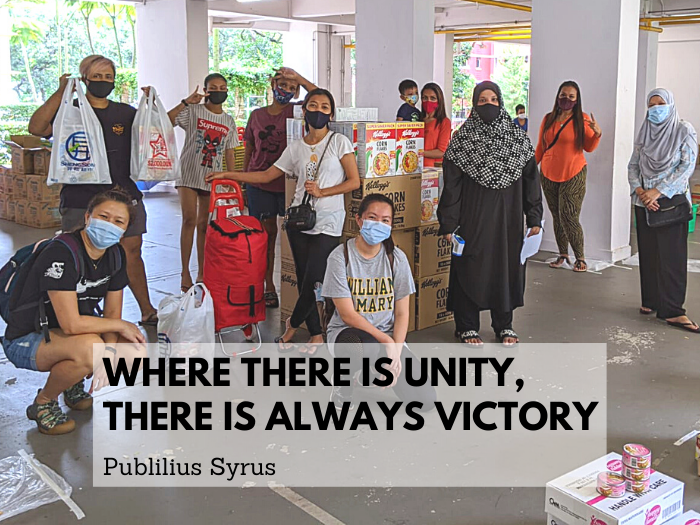 In this big rice pot that we all eat from, we need to ensure those receiving the smallest portions do not hunger. While the difference between charity, solidarity and unity is not always clear, we can begin by valuing and acknowledging everyone's contributions, and enable a culture of community, love, and pride.

In the spirit of mutual responsibility, TE Capital is matching up to $100K for an online campaign to provide basic food supplies for 1060 families from August to September, and right now the Beyond Blessings Campaign has raised $76,507. We hope that with your support, we will reach the $100K target in the next two weeks.
Wishing you, health, peace of mind and a glorious long National Day weekend.
Sincerely,
Gerard

Solidarity does not assume that our struggles are the same struggles, or that our pain is the same pain, or that our hope is for the same future. Solidarity involves commitment, and work, as well as the recognition that even if we do not have the same feelings, or the same lives, or the same bodies, we do live on common ground. – Sara Ahmed