Dear Friends,
2 brothers in their 60s, told us that they were finding it difficult to stay in touch with their families in Indonesia. Without SMART Phones, calls were expensive and being illiterate, texting was not an option either. They lamented that sometimes, by pressing a wrong key, $10 to $20 worth of pre-paid data is depleted without a connection.  So, we lent then a used SMART phone each and showed them how they may reach their families on WhatsApp without cost. It did not take long for them to catch on.
As boatmen who made a modest income, they decided to raise a family in Indonesia as they felt that they would not be able to cope with the higher cost of living in Singapore. Thus, they earned an income in Singapore and went back to their families on off-days. However, travel restrictions brought about by COVID-19 have kept them apart from their families since March this year and keeping in touch with their families has been an ongoing priority for them. So, when news of the government's Mobile-Access-for-Seniors programme was announced, they were all ears and proceeded to file an application immediately.
Despite enthusiastically rushing to a telco, they did not get very far with their application. They came back telling us that the different plans presented to them were confusing and they were getting agitated with the people attending to them. They added that they were only going to use the phone for free calls and so, data and other things that they did not understand did not really matter. What mattered though was a friendly service they could go to should they encounter any problems in the year ahead.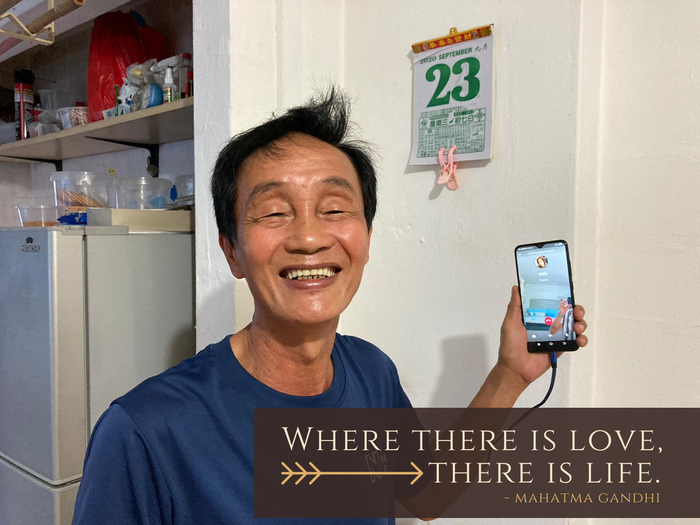 We searched for the relevant information online but after trying to explain the procedures to them, we realised that we had to accompany them every step of the way. As such, 2 of our interns brought them to the community centre   to receive their vouchers from a digital ambassador before heading to a telco with them. 

The brothers walked into the telco confidently and in his best Mandarin, one of them announced that our interns were their daughters and they will be making all the arrangements for them. It was a hilarious moment as no one in the room really believed him, but they followed his instructions and the application was processed quickly. Once both brothers stepped out of the telco office, they called their families with their new phones.
Wishing you health and peace of mind.
Gerard
"In true love the smallest distance is too great, and the greatest distance can be bridged." – Hans Nouwens