Dear Friends,
Still in his school uniform, Ahmad, rushed to our Centre after completing extra lessons in preparation for his Primary School Leaving Examination.  However, when he received his new laptop from Lt General (Retd) Winston Choo, Chairman of Metro Holdings Ltd, he was a little tongue-tied.  Nonetheless, he managed a smile, posed for the camera, and spoke to the press. His father who accompanied him looked on proudly and told us that he was glad that Ahmad was given the opportunity to be a part of this cheque presentation event.
As a charity, such events are common and quite often donors request that those who come to our programmes receive the donation on our behalf. Their presence makes for better photographs and as a picture says a thousand words, it becomes obvious who is benefitting from the gift. Such a picture also shows who has and who has-not, and so we are always mindful that our members at these events do not walk away feeling like a "charity case."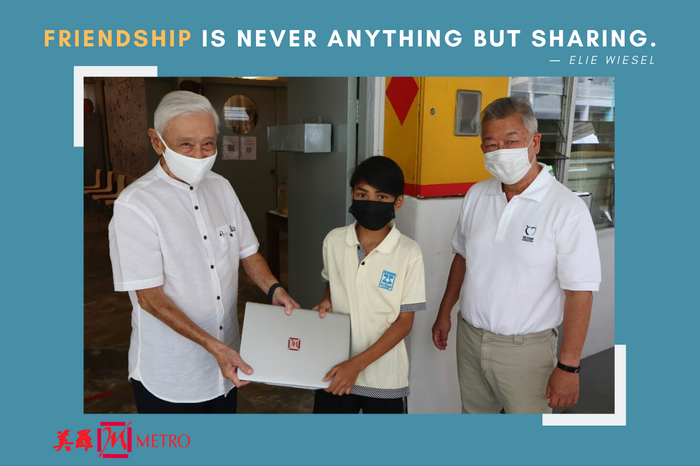 Someone who was ever present at cheque presentations was the late Dr Ee Peng Liang, a founding member and President of the Singapore Council of Social Service as well as the Community Chest,   He was    affectionately known as the "father of charity" in Singapore and he used to joke that he was a professional beggar. I suppose he deeply understood that constantly being on the receiving end of goodwill is not exactly a comfortable place to be. He showed up to be in solidarity with the less fortunate among us and to assure them that they were not lesser simply because they received assistance.

We are always grateful when members assist us at gift presentations but also a little concerned what they make of the experience. Thankfully, when Ahmad's father elaborated how he made meaning of the event, we were reassured. He told us that he was happy to come with his son because the event represented "sharing" which is a core value he inculcates at home. He has always told his 4 sons and 2 daughters, that when they are willing to share happily there will always be enough. He elaborated that once, when his children wanted cake, he only had enough money for a slice. However, everyone had such fun dividing it into "equal" portions and the occasion remains a happy family memory. For him, happiness after a long day at work is time at home because the experience of genuine sharing within the family never fails to uplift his spirits.
From 1 to 31 August 2020, the "Metro is Singapore campaign" designated 2.5 % of sales from their department store and online platform toward the purchase of laptops. Their Board Directors, management, staff, and key shareholders also contributed. $250,000 was raised and some 300 children and youth will be receiving a brand-new laptop to support their home-based learning. This was a generous gesture of sharing but what was also significant was having their Chairman and Group CEO sharing their afternoon mingling with our young people, impressing on them that they are the future of Singapore and they are no less simply because they needed a computer. When needs are met because we share and look out for each other, we build community.
Wishing you health and peace of mind.
Sincerely,
Gerard
Overcoming poverty is not a gesture of charity. It is an act of justice. It is the protection of a fundamental human right, the right to dignity and a decent life. – Nelson Mandela