Dear Friends,
We got the meeting going by asking those present to say something about themselves, inviting them to share an achievement, or a strength.  One shared that when she lost a kidney through illness, just staying alive felt like an achievement but it also gave her pause for what was important.  She stopped working and started looking after her grandchildren because doing so would mean "being useful" to 7 young lives and 2 mothers struggling to put food on the table. Another recalled the success she enjoyed in "patching-up" discarded jeans and reselling them to foreign workers.  
We also heard how one could earn some money skewering meat onto bamboo sticks for food stalls serving satay. Though not visible to most of us, a cottage industry exists as we also heard from one who stitched up cotton shorts for school children at home. What was coming through loud and clear was the determination and enterprise of these women to support their families despite their challenges; residency status being one of them. Apart from a Singaporean, there was a Thai, a Chinese national, an Indonesian and a Filipina and although they did not have a common language, there was much empathy and mutual appreciation of each other's stories.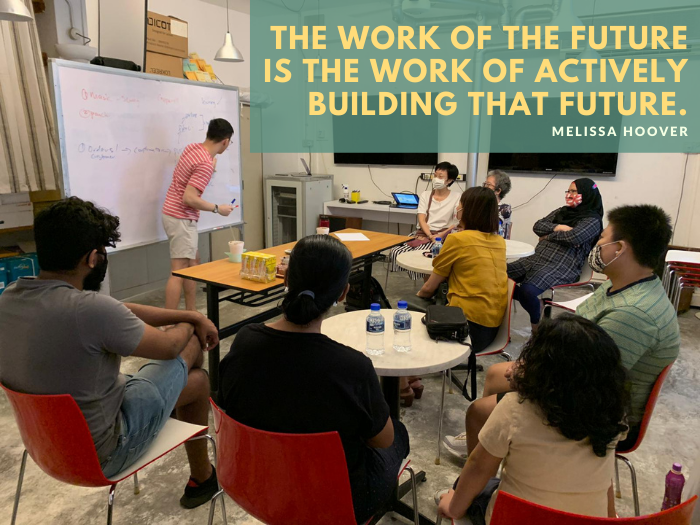 These women have been involved with our sewing projects since May and the meeting was called to present an overview of the operations.  We explained the aspects of purchasing and inventory management, the receiving of orders, the distribution of work and quality control with a view of transferring responsibility for the different roles to them.  They listened intently and while they were concerned that they may not be up the task, they were receptive toward the idea of assuming responsibilities other than just sewing. 

Despite not knowing each other very well, these women understood the value of cooperation and working together. After understanding the mechanics of profit-sharing, they decided that each month of work would amount to one share, but all seamstress needed to complete 6 months of work before qualifying for 6 shares. At the end of 12 months, the profits will be divided proportionately among shareholders and a clean slate for the following year begins.
Understandably, profit-sharing evoked much animated discussion and it was most pleasing to see the women taking the conversation further to discuss incentives that encouraged faultless work and the reduction of wastage. It was good to see that once given the responsibility and ownership of a project based on the framework of a co-operative society, these women thrived on decision-making. "Sew Can We!" they were exclaiming and "Obviously" would be our reply.
When I think about it, we should not be surprised as these women have a proven track record managing their family budget and care-giving responsibilities with very little resources. They just need a context where their energy, perseverance and enterprise can be applied that reaps them a more equitable return for their efforts.
We are grateful for the opportunity to develop this context and opportunity with them
Wishing you health, and peace of mind.
Sincerely,
Gerard
"The work of the future is the work of actively building that future—creating it, expanding it, contending for power in it, and finding solidarity with others towards it." – Melissa Hoover