Dear Friends
After a severe illness, Haslinda kept to herself most of the time. She was aware of our presence in her neighbourhood but never felt inclined to join the activities she was invited to. 3 months ago, a neighbour told her that we were looking for skilled seamstresses to produce face masks.  With many years of experience sewing curtains, sofa covers and such before she fell ill, she decided to check out the opportunity.
With the help of the Lee Kuan Yew School of Public Policy, we are evaluating our income generation projects and when asked how it has been for her thus far, Haslinda said, "I feel a bit more confident in myself, and it helps release a bit of my stress after sitting at home for 10 years, no friends, nobody to talk to, I feel like I've opened up a bit because I've gone out a bit more."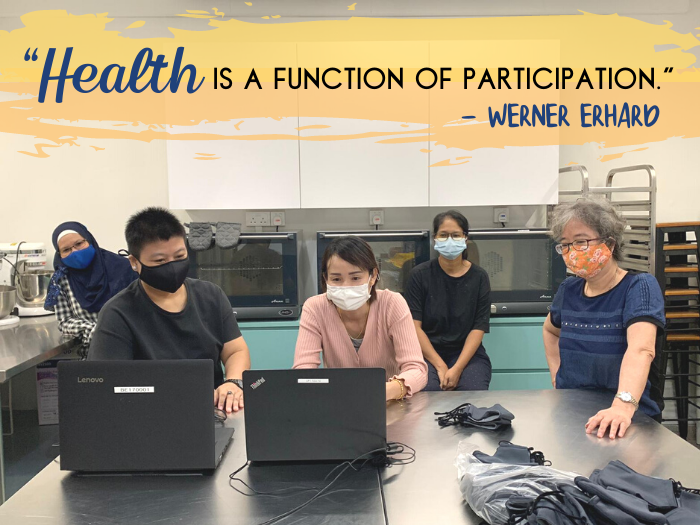 "Sew Can We" came about because our members needed to find a way to generate income when they could not gather and had to work from home. Now that restrictions to gather have been eased, those in this programme come together to train and to complete their projects. During a focus group discussion held virtually, they were tickled by the interest of the researchers.  "I have never been asked so many questions about myself or my work," Kawee, a mother of a young child originally from Thailand remarked, "and talking to people in front of a computer makes me feel so important." 

This research aims to better understand how we may encourage women from public rental flats to generate income without disrupting their caregiving responsibilities. For these women, delegating caregiving responsibilities to service providers so that they can join the workforce is not a realistic option. Paying for services out of the low wages they command is unlikely to make financial sense and probably further stress their busy routines.
As they engaged the women, the researchers were impacted by the experience. Firstly, they realised that the honorarium of $15 for an extensive interview was unintentionally reinforcing respondents' identity of a low-wage worker. Even though the women did not consider the interview as work, there was an opportunity cost for being present let alone expenses for transport and refreshments. Thus, they chipped in to give their respondents a little bit more.
"What impacted me most is how the members of Sew Can We managed to meet deadlines for multiple projects despite language barriers. I am amazed by how women originally from different countries could coordinate the orders and work together harmoniously while speaking in different languages." This researcher then reflected, "These income-generating projects are really about bringing out the best in people and creating a community where members share skills, learn from one another, and support each other through their personal struggles."
Wishing you good health and peace of mind.
Sincerely,
Gerard
"Work is a path toward personal and communal self-realization, individual perfecting and collective betterment; it is the exponent of a more unquestionable social and humanistic consciousness." – Father José María Arizmendiarrieta, Founder of Mondragon Cooperativism