Coco, Addie and Xavi aged 10, 7 and 5 respectively, knocked on our office door tentatively with their mom.  In accordance with safety directives, our doors are still closed but it would have been most improper if we had not welcomed them. These 3 angels had used up their Christmas gift money to purchase 6 "back-to-school" packs worth $50 each for   children who needed them.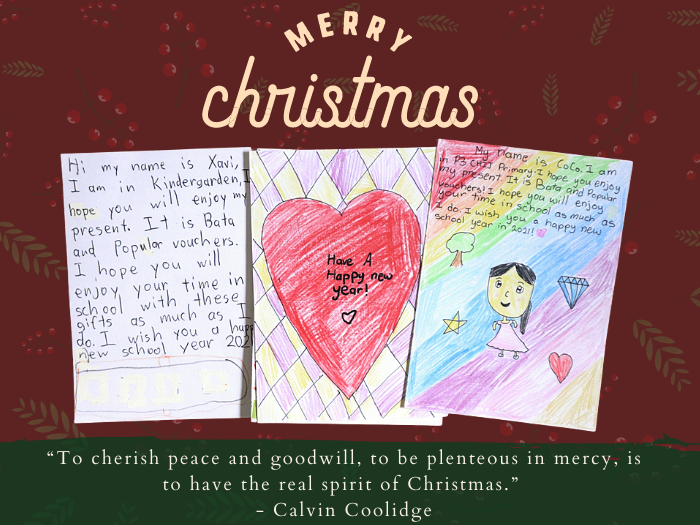 Happy Christmas and wishing you every blessing of the Season. I was deeply touched by how Coco, Addie and Xavi spared a thought for children who had less, and their gesture got me thinking that we have it in all of us to offer a kind thought to another person all year round. If so, the words of Calvin Coolidge ring true, "Christmas is not a time nor a season, but a state of mind. To cherish peace and goodwill, to be plenteous in mercy, is to have the real spirit of Christmas."

In 2011, Zulayqha was pursuing a certificate in Community Care and Social Services with the Institute of Technical Education College East. As part of the programme, she completed an internship with us, but we did not keep in touch after she left. During the circuit breaker this year, together with her family she began Project Hills to assist her neighbours at a rental block at Mei Ling Street.
Recently as we were mapping out the resources at the Mei Ling neighbourhood, we met Zulayqha and were amazed by how Project Hills had organised an effective mutual help group among neighbours. We were then humbled when she revealed that her family had modelled their efforts on our approach and methods. It was also a little embarrassing we could not place her. The colleagues who supervised her internship are no longer working here. Anyway, we will now be directing resources to the neighbourhood through Project Hills.
Zulayqha is now a social work associate and pursuing a Degree in Social Work. She has overcome much and 2 years ago, she was awarded the Straits Times Generation Grit Award. She has taken the opportunities that came her way well but has never forgotten those who helped her along the way. We have only been a small part of her journey, but she reckons that the internship with us got her deciding that social work is the career for her.
"I could not believe that you guys trusted me with the key, and I valued the responsibility of opening and locking up the office," she told me. "I was also given the opportunity to meet with stakeholders from so many different backgrounds and was trusted as member of the team." She then related events that I could only vaguely remember and even reminded me of a training session on community work I had conducted. She spoke fondly of Letch, a colleague who showed her how to manage a class and recalled engaging children in the neighbourhood as her most memorable and fulfilling experience.
It was so fulfilling speaking with Zulayqha as she reminded me that the gifts of trust, respect and positive regard are gifts that last and multiply in profound ways we could never imagine.
Wishing you and all your loved ones, a glorious day of giving and receiving the gifts that matter most.
Sincerely,
Gerard