Dear Friends
We met with some children and youth to gather their thoughts and sentiments of a new playgroup next to their blocks. In October 2019 (AWB – 1943),  these children submitted a set of drawings to their Member of Parliament illustrating what their dream playgroup should look like. Hence, now that the playground has been up since 10 February 21, we wanted to check if it was indeed a dream come true for them.
All present unanimously agreed that the playgroup has brought much joy and pride. It is a showpiece that has enhanced their living environment tremendously as both the young and old gather there. The children find it ideal for a game of tag and even though the monkey bars are not as high as they had hoped for, they have adapted its usage. A child shared that the advantage of the lower bars is that she can support her baby brother while he attempts it. Sensing our concern, she assured us that she is always holding her brother securely and he was not really swinging from bar to bar.
The swings are everyone's favourite, and their presence is an achievement as they were not in the original plans, but the children's parents had advocated for it. Several also joined their MP, Mr Henry Kwek to meet the contractors when they conducted a site recce. At that meeting, they stressed the importance of having swings.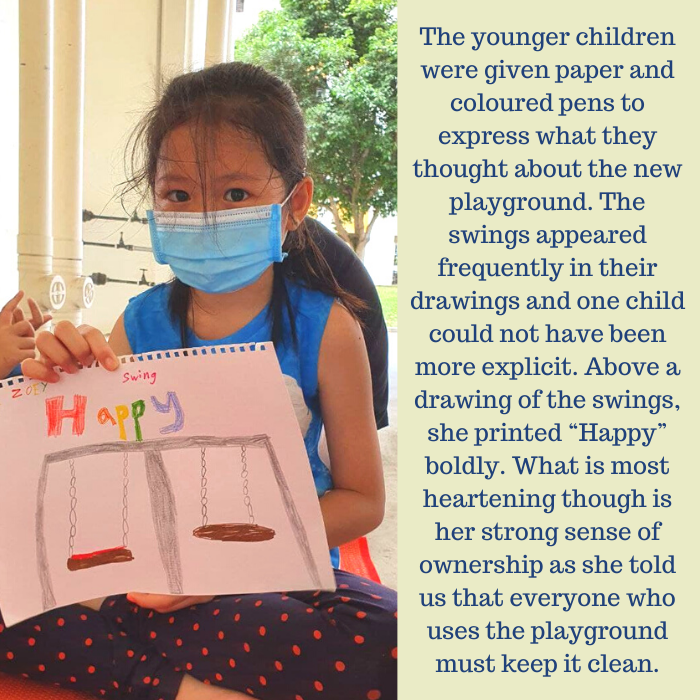 She then pointed out to us the handprints of chocolate-like stains that had been left on a handlebar.
Like this child, the youth present had a strong attachment to the playground. They told us that it has become their favourite hangout and they regard it as their "clubhouse." The swings are also their favourite and whenever it is too warm at home, they would come down with some comfortable cushions to enjoy the breeze that blows through the space.
They were also annoyed with the litter around the playground and asked us how to go about informing the Town Council to place a few rubbish bins nearby. They too believed that they should take care of the playground as best as they could and said that they will start cleaning the seats of the swing as they often reeked of body odour from its heavy usage. Another thoughtful gesture that they will now attempt when the opportunity arises is to advise those who bring very young children to the playground to supervise well as during this past month, they have observed a couple of accidents.
Our role is to encourage and enable people to act on their challenges and aspirations we are humbled by the sense of ownership these children and youth have for their playground.
Wishing you good health and peace of mind.
Sincerely,
Gerard