Dear Friends,
After explaining our work at a meeting, someone listening quoted the Scriptures. "The poor will always be with us," she commented. I have heard this said many a time and it is from Matthew 26:11. "The poor you will always have with you, but you will not always have me" is the complete sentence and Jesus was foreshadowing his crucifixion. Today is Good Friday and I would like to wish all Christians a meaningful and peaceful day in observance of unfailing love.
Later in the week, I was asked the definition of success in the non-profit sector by a class of undergraduates. Being a charity that has always been addressing poverty and its related issues, I wondered if that person whom I had met was in the class, would she ask how success would look like in the light of the Gospel truth. If so, I would have answered that while we celebrate every time a family improves their financial situation and achieves stability, success must also be the family's will to strive for a better life despite their challenges. If helping others to help themselves is a tenet, then we must regard those who keep trying despite their disadvantages a success. The next time we meet a low-income person, let us picture a fighter or a survivor and not a loser.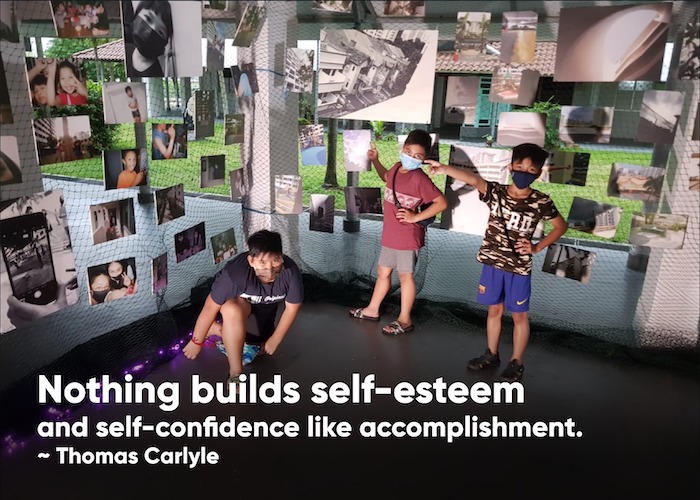 This afternoon, some residents will be distributing bundles of pre-loved clothes to their neighbours. In the bundle will be traditional outfits, mostly new that will be appropriate for festivities at the end of Ramadan in mid-May. Preparation for this exercise was decentralized as the bundles were sourced and packed according to our specifications by volunteers who also dropped them off at our office.  Our call for donations felt like an efficient online shopping experience but success is the genuineness in which people took an active interest in the well-being of others.
After 6 weeks, 11 children experienced the success of contributing to a photovoice project that showcased their neighbourhood through their eyes.  They proudly took turns to walk their parents and friends through an exhibition of their photographs at Singapore's very first void deck (this is just where our office is located).
The photovoice project was a success in giving children a sense of accomplishment and self-belief as well as facilitating a healthy sense of family and neighbourhood pride. Positive outcomes are satisfying but I would say that the ability to visualize what they may be in the first place and staying the course when the change is not forthcoming, safeguarding relationships and mobilising resources daily would be the success of a non-profit worker if the effort enables stakeholders to own their challenges and aspirations.  Success is not just about what we accomplish but what we inspire others to do for themselves.
Wishing everyone a blessed Easter weekend.
Gerard