Dear friends,
Although they had met online twice previously, 2 mothers only realised that they   both hail from the same county in Hainan China before making Singapore home. Excitedly, both began conversing in Hainanese in the midst of others during a virtual meeting. After a minute or so, they caught themselves and agreed to connect on WeChat after the meeting to discuss a recipe for braised duck. No one at the meeting was offended by this spontaneous side dialogue. Instead, everyone found the spontaneity rather amusing and a pleasure to witness.
These 7 Chinese speaking caregivers have been coming together as a mutual support group since August, and by listening to their conversations, we have learnt that they dream of having a modest home-based business, and are also looking for work opportunities that they can undertake. Also, educational and enrichment resources for their children are important to them.  We are also learning to assure these participants that the advice and support they receive from each other would not be inferior to that, that we provide. Importantly, in the longer run, they develop friendships, skills, and the confidence to build a satisfying life for themselves and their families.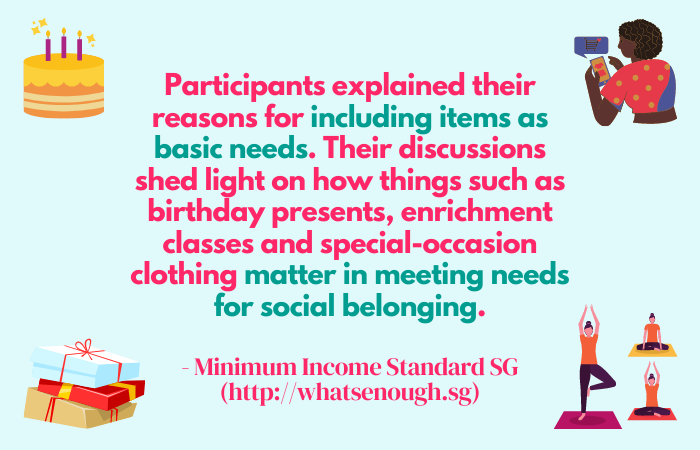 People join these mutual support groups that we call Family Circles on our invitation. What they have in common is a willingness to meet other people to explore how they may work together for mutual benefit.  In the spirit of encouraging shared decision-making and cooperation, we are mindful that we stay in the background and do not take charge of proceedings.  We provide information that we think the group may be interested in, but we take the position that it is for them to act on it.  So far, we have brought about 5 Family Circles, and our efforts are guided by the principle that "people are the experts of their own lives."
Participants in these Family Circles are helping us learn what it means to surrender our tendency to take charge, and to redefine our role as a helping professional. Instead of being a service provider, we reimagined ourselves as a catalyst, and in appreciation of the opportunity these participants have given us to do so, we provided then an honorarium of $100 each. This gesture unexpectedly reminded us that what is important to people may not be something social services would provide.
A mother who was most pleased with the honorarium revealed that she will be buying a cake for her daughter to share with other children in the neighbourhood on her birthday. She will also use the money to prepare goodie bags for children in the childcare that her daughter attends. She elaborated that her daughter has been receiving gifts from her classmates all these years. This being her last year with the centre, it seems apt to be giving instead of receiving at least once. As she was sharing, her daughter who was next to her smiled approvingly.
Wishing you good health and peace of mind.
Sincerely,
Gerard
A basic standard of living in Singapore is about, but more than just, housing, food, and clothing. It is about having opportunities to education, employment, and work-life balance, as well as access to healthcare. It enables a sense of belonging, respect, security, and independence. It also includes choices to participate in social activities, and the freedom to engage in one's cultural and religious practices – Minimum Income Standard SG