Dear friends,
"My friends and I never thought that we could trust the boys," declared a 15-year-old girl. "We never thought that they will care about our fears and our safety," she added. Her friends who were with her nodded but together they said that they are happy to have been proven wrong. Since 2020 a group of girls have been coming together to discuss sexuality, relationships, and other topics that youth find difficult to raise with others (AWB -2043). They have benefitted from the experience and feel that they could do something to support their peers who may be at risk of sexual harassment or have experienced it.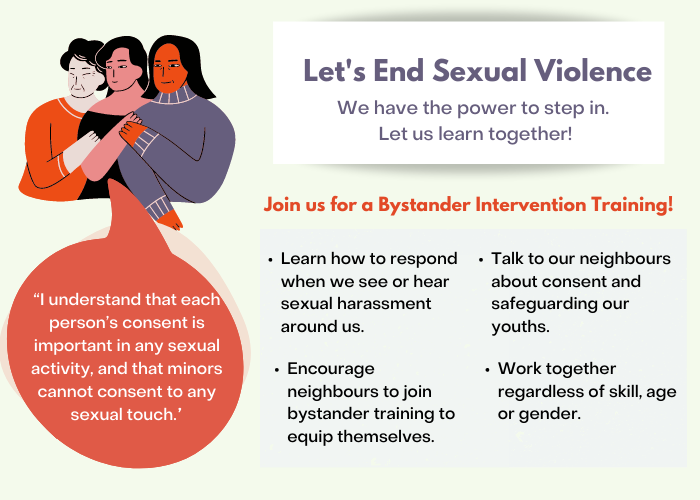 Over the last 4 months, 2 of these girls have been highlighting to their friends and neighbours the need to confront the issue of sexual harassment should it come to their attention. To help then start the conversation, they share a pledge that they have written. It declares their intention to stand with those who have been affected, and explicitly states, "I understand that each person's consent is important in any sexual activity, and that minors cannot consent to any sexual touch."
The goal these self-motivated girls have set for themselves is to reach out to 90% of their neighbours and talk to them about consent and the safeguarding of children and youth. They hope this outreach will encourage some of their neighbours to equip themselves with bystander training, while the majority will mindfully bring troubling situations to the relevant authorities for swift action. The outreach work is a huge task, but they are joined by some mothers and boys who want to prevent children and youth from being abused.
So together, they have been discussing how they could reach their neighbours more effectively and efficiently. As a result, both the mothers and the boys have produced a short video clip with their phones beseeching their friends to join them in exploring how they may stop sexual harassment in their neighbourhood. They envision that the video will be shared with everyone living in their block and when the girls knock on their door, neighbours will already have a good idea what will be asked of them.
This endeavour has provided a context for all involved to share why the issue matters to them. It has provided an experience of cooperation despite differences in motivation, skills, age, and gender. Mothers are not parenting but partnering with teenagers to make their community a safe safe place for all. Girls and boys are listening to each other carefully and confidently communicating to adults an issue they should care about.
May they and all of us be blessed with strength and courage for our convictions this Tiger Year.
Sincerely,
Gerard
Direct the people by means of laws, unify them by means of punishments, and they will become evasive and moreover will have no sense of shame; direct them by means of moral charisma, unify them by means of ritual, and they not only will have a sense of shame, but moreover will be good by themselves – Confucius (Lunyu 2:3).