Dear friends,
Early last month, after hearing her 3 children grumble that we have not invited them on an outing for a long time, the mother told her children to contact us to see what they could do for their community. She told them to gather their friends as well. So, 3 weeks ago, 4 youths showed up at our office to explore if they could meet regularly to organise activities for themselves and their community. After some discussions, they decided to meet weekly, and their first project will be to organise a breaking of fast meal happening later this evening. 7 youths are contributing to this evening's potluck meal, and they have envisioned it as an activity to interest their peers to join them in organising other activities.
Last week, when these same 7 youths held their first meeting, they actively discussed urgent issues affecting women. In preparation for the discussion, they googled women leaders that inspired them. At the beginning of the meeting, the group learnt about Harriet Tubman, for her bravery in standing up against slavery and helping those held in captivity to escape. Also mentioned was Ursula Burns, the first African American to serve as a CEO of a Fortune 500 company. What caught the eye of the boy who mentioned her was that she was raised in a low-income housing project on Manhattan's Lower East. Aung San Suu Kyi was the inspiration for another for her role as an activist for peace and democracy within Myanmar.
The youth took the discussion seriously. To introduce the issues affecting women today, we looked up the UN Women website. The boys wanted to discuss the issues of violence against women and girls as well as the gender pay gap. As for the girls, it was the issue of "period poverty and stigma" that spoke to them. Nonetheless, both the boys and girls got to hear each other's reflections.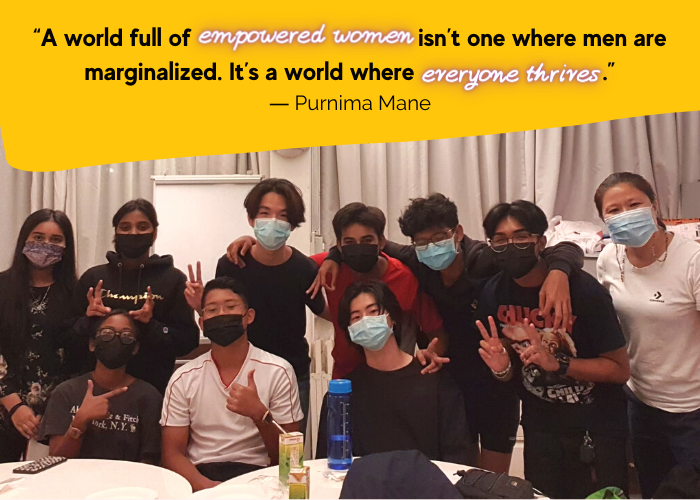 One boy reflected that patriarchy contributed to violence against women as well as the gender pay gap. He reckoned that as long as women were only expected to stay at home, they are regarded as inferior and vulnerable to being bullied. The girls added to the discussion by pointing out how easy it was for a woman's life to be upended. They were aware of many young women who found it extremely challenging to raise their children single-handedly because their partners deserted them. 
The session proved to be a safe space for active discussion to clarify one's doubts. We were impressed that the group concluded that discussing women's issues did not mean that men were less important, but it was to create a more inclusive world for everyone. A boy remarked that he had been reading a book on Women's Rights and would like to keep the conversation going so that he could have a broader understanding of issues affecting women. So, the next discussion will be about understanding Singapore's White Paper on Women's Development.
We tell our youth that one way of exercising leadership is to create the type of neighbourhood that they want to live in. We are heartened that they have interpreted this by putting women's development in the centre.
For peace and inclusive communities where men and women partner each other as equals,
Gerard
"Every great dream begins with a dreamer. Always remember, you have within you the strength, the patience, and the passion to reach for the stars to change the world." – Harriet Tubman