Dear friends,
A colleague's curiosity was piqued when a mother posted a photograph on the neighbourhood's WhatsApp group. She saw 3 children who did not usually hang out with each other sitting together. Moreover, one of them was a boy who was overtly shy and was not known to show up at community events. So, she visited Wahiddah, the mother who posted the photo to find out more. Wahiddah told her that it all started with her 11- year-old daughter asking her a question.
"When you were a kid mommy, how did you celebrate Raya?"   Wahiddah recalled that together with friends, she would randomly visit different homes in her neighbourhood and they would be invited in for some food and drinks. The hospitality was always generous, and they would also leave with a gift of money inside a small green envelope.  After relating the experience to her daughter, Wahiddah was filled with nostalgia and spontaneously asked her daughter to rally a few friends as a visiting they would go.
When 7 children and Wahiddah knocked on a neighbour's door, they were warmly greeted and welcomed. The children introduced themselves to their host and shouted a big hello to her son who was looking on silently. On his mother's instructions, he helped her serve the guests with rice cakes, cookies, sweets, and iced water. Doing so broke the ice and he was soon making small talk with his peers. His mother was all smiles as she regarded the visit a blessing and an honour. She was a tat disappointed though that she could not provide each child with a green envelope.
So, after her guests left, she shared her experience on her family's chatgroup and her brother offered to host the children at his home another day and he promised green envelopes too. The photograph our colleague saw was taken during this visit, and she learnt that it was the beginning of a new friendship among the children as they are now hanging out together.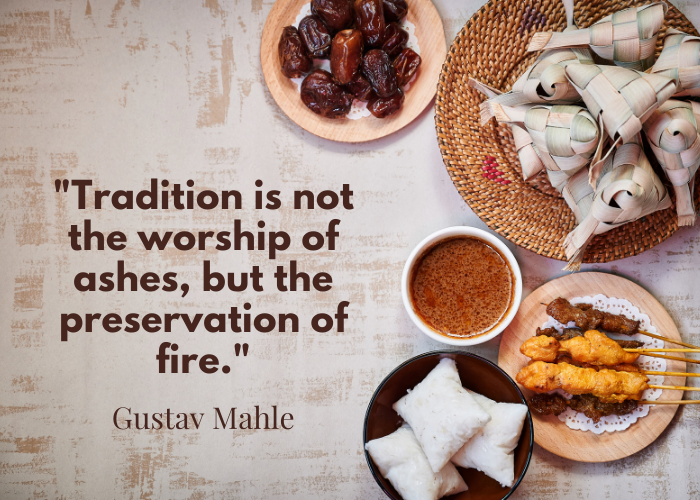 Cultural activities and traditions are intangible strengths of a community. In this case, they drew a reserved child out of his shell and facilitated a friendship he did not have. Also, Wahiddah's happy childhood memories were a gift to her daughter that manifested in a happy new experience. Importantly, Raya has shown us that culture is not just about food, clothes, and rituals but really about how we care and look out for each other.
For peace, community, and traditions of care,
Gerard
Learning to touch deeply the jewels of our own tradition will allow us to understand and appreciate the values of other traditions, and this will benefit everyone. ― Thich Nhat Hanh