Dear friends,
"Health is wealth" is a truism we are all familiar with but when one is of little means, the less visible barriers to a healthy life are many and perhaps, "wealth is health" would sound truer.
A mother on a long-term social visit pass commented that she finds the cost of healthcare very expensive. She is part of a self-organised neighbourhood workgroup that aims to promote social relationships, community activities and opportunities that serve as protective factors against ill-health. She is aware of the importance of preventive medicine but any visit to the doctor would be a strain on her tight household budget and she rather not seek medical attention whatever the reason. Thankfully this workgroup has established a good working relationship with the Mount Alvernia Hospital Community Outreach Programme (MAH) and so together with 9 others like her who are foreigners married to a Singaporean, they had a mammogram and health screening done for $20.
The request by this foreigner also led to an initiative that benefitted 22 other women who have citizenship or permanent residency status. MAH arranged for the mammobus, a community service jointly provided by the Singapore Cancer Society, Breast Cancer Foundation, and the National Healthcare Group Diagnostics to provide a screening in their neighbourhood.
It was also affordable, obviously convenient, and the event was a success in that the mammography service operated at full capacity. However, registering the women and ensuring their attendance was not straightforward. Many were fearful of the procedure which was a hurdle, we reasonably overcome with accurate information and personal sharing from colleagues who had done it before. The real hindrance was taking a day off from a daily rated job and for those who had full-time jobs, they wondered if their bosses would approve. From what we gathered; they rather reserve any goodwill from their bosses for family emergencies which are frequent for them. Another hindrance was the fear of bad news. Many told us that they rather not know because they would not be able to afford treatment anyway if they were diagnosed with breast cancer.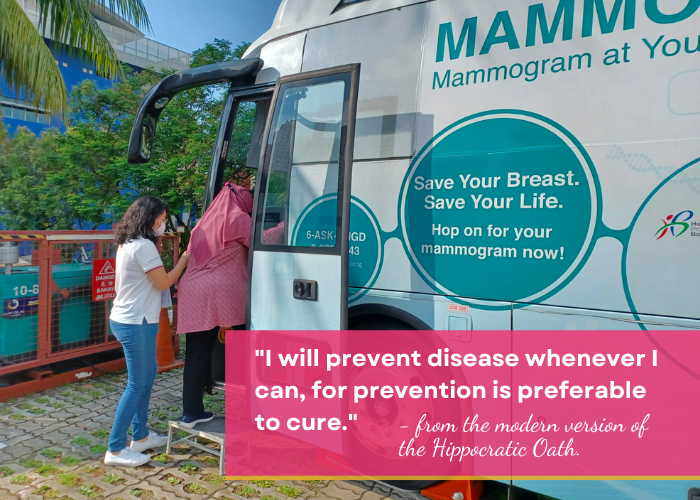 With regards to the lack of financial resources, we are hopeful that with partners such as MAH, fair opportunities for better health outcomes in disadvantaged communities will emerge. By the end of this month, 80 residents aged 2 years old and above will receive free flu vaccination and MAH will also see to the hysterectomy of another woman in pain. Another partner that worked with us this week was Asia Retina Singapore. Dr Claudine Pang and her colleagues conducted an eye screening for 24 children aged from 5 to 12 years old and will now see that 4 children receive their prescription glasses. They also advised a mother to visit a Polyclinic for a referral letter for her son's eye condition and showed the children simple techniques in caring for their eyes.
Health challenges are omnipresent within disadvantaged communities and many of its members have fallen through the cracks on the floor of our health system or just have no access. Hence, our belief that a social issue is not just a problem to be eradicated but an opportunity for diverse individuals and groups to collaborate toward a common good and a socially integrated society is critical. This is because when the government, civil society and the community come together to address social issues, better outcomes are more likely.
For peace, community, and the shared wealth of health,
Sincerely,
Gerard
I will remember that I do not treat a fever chart, a cancerous growth, but a sick human being, whose illness may affect the person's family and economic stability. – from the modern version of the Hippocratic Oath.