Dear friends, 
We have a donated coffee machine at our premises and a month ago, an intern was showing 3 children aged 10 to 12 years old how to use it. This intern has been a barista at a café and to get to know these young people better, she "opened shop" for a few hours with these young people as her team-mates. The "shop" was well patronised by colleagues and volunteers who contributed whatever they felt their drinks and snacks were worth.
Youth work is non-formal education where young people's holistic development is facilitated through social, recreational, and learning activities. The youth worker is an adult friend that holds the space for young people to clarify their values, manage their developmental needs and to develop critical thinking and decision-making skills. So, at the end of that session, these tweens walked away from their brief exposure to café work with an experience of success and some pocket money from the profits of the day.
One of them, we shall call Tom was so happy with the experience that he could not stop talking about it at home. Eventually his mother and an older sister who works in the food and beverage sector approached us to see if the experience could be replicated. They were pleased to see Tom so enthusiastic about food preparation and thought it could be a regular activity for youth in the neighbourhood to practice responsibility and to pick up work skills.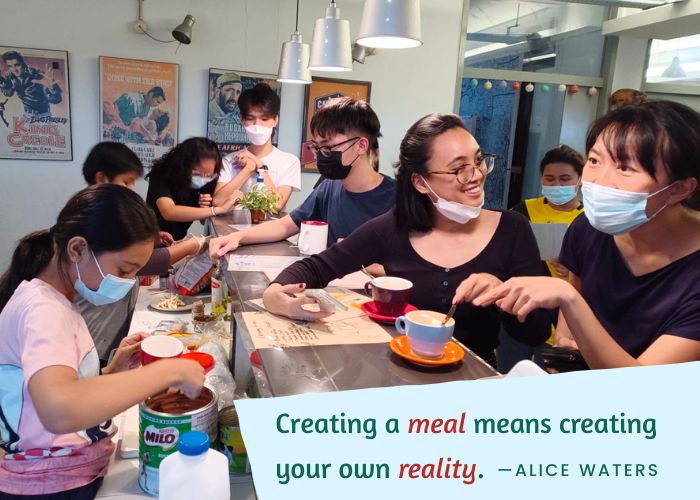 Last Friday, Tom and his friends were managing our café again but this time under the supervision of Tom's mother and sister. It was really timely as we were able to host a farewell tea for some interns who were leaving us that day. Apart from coffee and tea, croissants, sandwiches, and flavoured French fries were on the menu and although the intern who organised the previous session was not present, I am sure she would have been pleased to know that her initial effort has been a catalyst for a community-run initiative.
During the debrief, each young person described their responsibility for the day and shared what they felt they did well and what they could have done better before others were invited to give them feedback. It was heartening seeing how these young people could be reflective and how they took the learning opportunity seriously. One of them was glad she got to cook the fries this time as it was a new skill and more fun than counting money the last time round.  Another said that taking orders was meaningful as she learned to spell words like croissant and sandwich.
These young people struck us as enthusiastic learners and it has been our experience that given the right conditions people want to learn and even find it enjoyable. Hence, as we engage young people we are guided by the principle that when young people are not cooperating it is because our approach is inappropriate and not because we have a problem youth.
For peace, community and learning opportunities,
Gerard
Teaching kids how to feed themselves and how to live in a community responsibly is the centre of an education. – Alice Waters