Dear friends,
After almost a year of meeting monthly online, 6 mothers in a mutual support group met in person for the first time. Each brought some food from home and the mood in the room felt like a reunion of old friends. A few remarked that being in the same room with each other gave them a very different impression of each other and made them question if they had really known each other for a year.
It has indeed been a year and it was timely to take stock of everyone's experience being a member of the group. So as not to dampen the celebratory ambience, the evaluation was put forth as "What food best represents what this group means to you?" We then joked that these food items will be on the menu when the group has a celebration.
"Kueh Lapis!" was one spontaneous response. "Whenever someone shares, the story has so many layers and I have to chew on what was said to get a fuller understanding of the situation. Also, it must be the type that has a different colour for each layer to represent how different people come together to create a sweet experience." This vivid description encouraged others to chip in and another built on it by offering a colourful salad with white and purple cabbage, cucumber, lettuce, and cherry tomatoes that reflected the harmonious relationships among group members from different cultures.
Friendship, belonging, inclusion, calm and comfort and purpose were other "meanings" that emerged from food items such as chocolate coated love letters, fried rice, and ice-cream. The association was not always clear to those listening, but it made perfect sense to the person sharing and that was what really mattered. Every member found their participation meaningful, partly from what they got out it but mostly from how their contribution was received. The group offered a safe space that honoured their stories, their lived experiences, opinions and basically, their presence.
"Yes, when we feel safe there is so much good advice and wisdom, we give each other. We are like a burnt Basque cheesecake. We are all hard, crusty, and burnt on the outside but so soft on the inside. Once we feel safe, our conversations are overflowing with experiences, knowledge and resources oozing out like the cheese." All round agreement greeted this final contribution.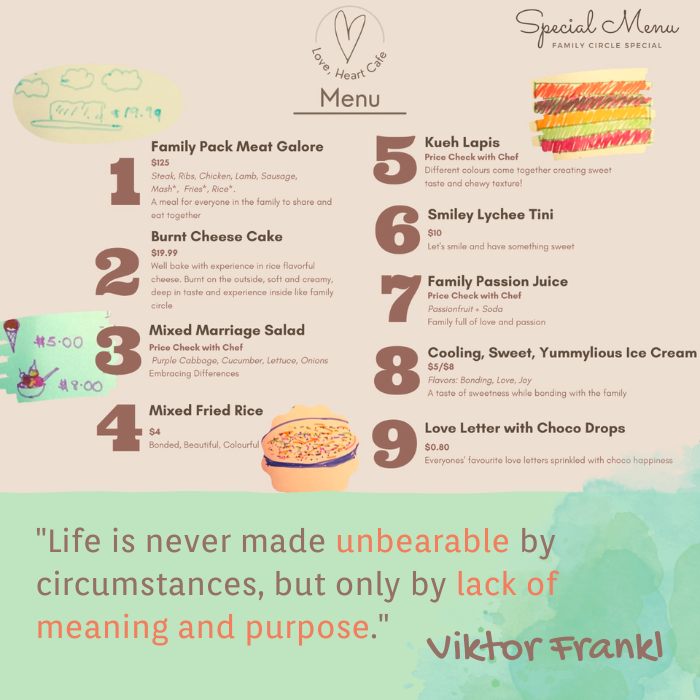 A key role of ours is to enable people to address their challenges and aspirations and while providing skills and resources are necessary, it begins by helping them identify with a purpose they can contribute toward. Then it will be journeying with them to safeguard this purpose and we are hopeful that members of a Family Circle will serve as guardians for each other's purpose.
For peace, community, and purpose,
Gerard
Don't aim at success. The more you aim at it and make it a target, the more you are going to miss it. For success, like happiness, cannot be pursued; it must ensue, and it only does so as the unintended side effect of one's personal dedication to a cause greater than oneself or as the by-product of one's surrender to a person other than oneself. – Viktor Frankl