Dear friends,
8 youth from different neighbourhoods responded enthusiastically to an invitation to explore how they could lead or be a part of a social action project that they cared about. They told us that they were inspired by mothers in their respective neighbourhoods who organized community activities, spoke to their neighbours about improving their health and cared for older people. They also fondly recalled activities like "really free markets" where they could pick up preloved clothes, bags, and household items as well as potluck dinners and community events where they were welcomed to have their fill.
There was always something happening in their neighbourhoods and now that they are older, they realise that this is not always the norm elsewhere. They have also come to value the willingness in which resources and problems are shared among neighbours and how people come together to understand common issues of concern. Community has been a valuable way of life and they want to learn how they may keep it alive wherever they live.
When asked what issues they wanted to work on, climate change was one response. They knew it posed an existential threat and they wanted to learn more. They were also concerned about dating violence, domestic violence, youth mental health, safe neighbourhoods for children, care for ageing neighbours and youth empowerment. The group believed that if given the opportunity, resources and some guidance, young people like them could activate their neighbours to care.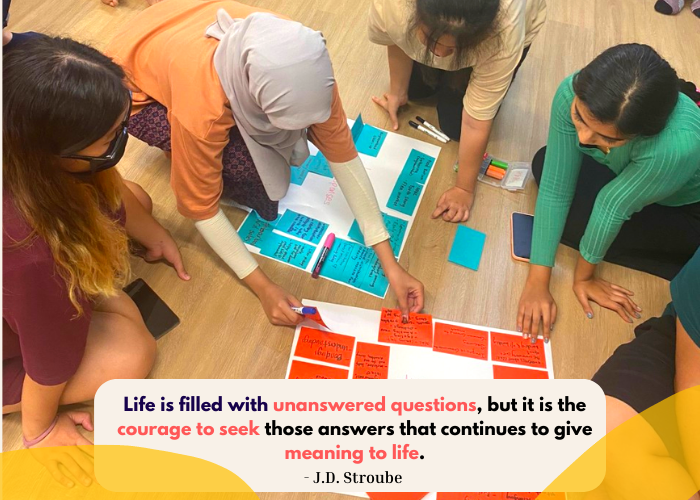 So, they began by choosing a topic and asking questions about it. They figured that they did not know where to start and needed to gather as much information as possible about the subject before they could identify something meaningful, they could do. After about 15 minutes into the discussion, one of them laughed out loud and the rest followed. Bemused we asked "Why?" The person who laughed first, said that it did not seem like their questioning would end. One question led to another, and the information was beginning to feel rather overwhelming. He wondered if they were in any position to do anything.
The self-doubt was understandable, but the group decided to continue the discussion and we were much comforted by how one participant reflected on the experience at the end. She said that while the answers to all the questions were not always satisfying, she thought it was a worthwhile exercise because she found herself questioning her own assumptions and beliefs. "I think I am beginning to learn how to understand a situation from different perspectives, and questions help us think!" she concluded.
For peace, community, and good questions,
Gerard
Good questions outrank easy answers. – Paul Samuelson