Dear friends, 
Global Handwashing Day took place on 15 October, and it was a day to highlight the value of washing our hands with soap and water to ward off disease. To honour the spirit of the day, Soap Cycling Singapore in collaboration with Purely Fragrances, hosted several complimentary soap making workshops for us this past month. The soap bars produced were then distributed to various social and community organisations. Here with You, a social service for migrant workers was one of them and this week, 2 workers who are recovering from an injury at work joined us in a soap making session.
The teens listened carefully as their mother asked the workers how they got hurt. One of them replied that he hurt his finger when it got in the way of some chemicals being shot by a grouting gun. Initially he brushed it off as a minor accident after applying some antiseptic cream. However, after a couple of days he visited the doctor as the pain was unbearable and he had surgery to remove a foreign object embedded in his finger. The other hurt his back as he slipped while coming down a stairway. It was a 5 metre drop and he required surgery for his fractured heels and a part of his back.
We noticed that the teens were not their usual boisterous selves but appeared contemplative as they focused on the task at hand. However, they complimented the workers for picking up the soap making skills so quickly. They observed that the workers' fingers were more flexible and gladly allowed the workers to help them along.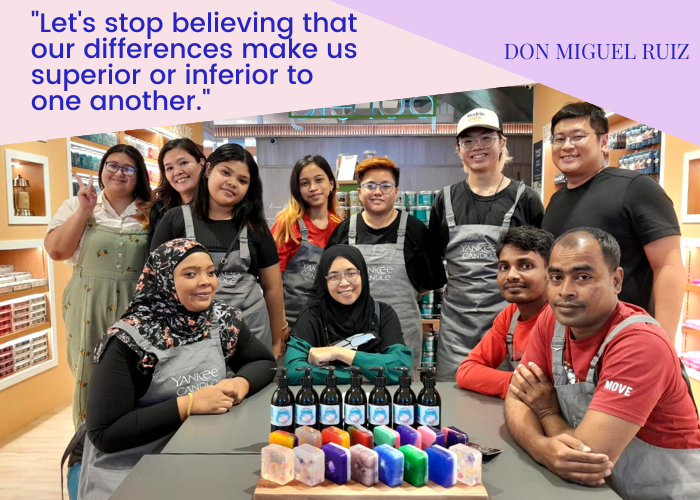 After the session, their mother told us that the teens discussed the workers' plight with her.  They were saddened that the allowance they received while on medical leave would be insufficient for them to remit to their families in Bangladesh.  They also reflected that an injury may mean the end of one's ability to earn an income and commented that the workers had a very precarious means of livelihood.
We were grateful for the mother's sharing as what started off as an innocuous craft activity turned out to be an exercise in empathy and consideration for those with difficulties. "We have our problems, but these workers have theirs too," this mother reflected. "I am proud that my daughters were kind, thoughtful and friendly toward them."
For peace, community, and empathy,
Gerard

This capacity for empathy leads to a genuine encounter – we have to progress toward this culture of encounter – in which heart speaks to heart. – Pope Francis