Dear friends,
15 years ago, a 3-year-old girl we shall call Nina was a student at our Healthy Start Child Development Centre. Her mother was a foreigner, and she was born before her parents were officially married. We remember her because while she had a Singapore birth certificate, she did not have citizenship.  When her father was incarcerated, Nina moved in with her grandmother and Nina's mother moved on to start life anew. We also remember that soon after, Nina withdrew from our Centre, and we lost contact.
In February 2020, an intern reported that during a visit to a neighbourhood, she came across a 16-year-old-girl who was worried that she could not sit for her 'N' Level examinations as she could not afford the fees. Since primary school, this girl had been paying a foreigner's rate for her school fees and she has chalked up significant arrears. Anyway, we proceeded to link her to a tuition programme provided by a family service centre and highlighted her predicament to her school. The school was most helpful as they agreed to find the funds to clear half of her arrears and to meet 50 percent of her examination fees.  We supported the situation by coordinating a meeting between the school and the girl's family to secure a shared understanding of the situation and the obligations of each party.
As we engaged the family, we learned that we were reconnecting with Nina whom we cared for briefly. Nina was now an articulate teenager well aware of the disadvantages of her non-citizen status. She expressed much anxiety about her inability to remain in the country, "Much as I try, my grades will not be good enough for me to continue applying for a student's pass." She also related her family's frustration in navigating the bureaucracy despite assistance from different people over the years. She felt that her father had kind of given up as he is slow to move when she seeks his assistance with the paperwork.
Nina's father supports the family as a high-ropes cleaner that maintains building facades. Last November, when inclement weather hit, he took the opportunity to leave work early to retrieve some relevant documents from the Syariah Court. He got it wrong the first time and at risk of incurring his employer's displeasure, he took off from work again to get it right. Father did care but both Nina and him needed a little assurance that their efforts were on the right track. So, when we were able to convince them that we will be available throughout the application process, they acted energetically.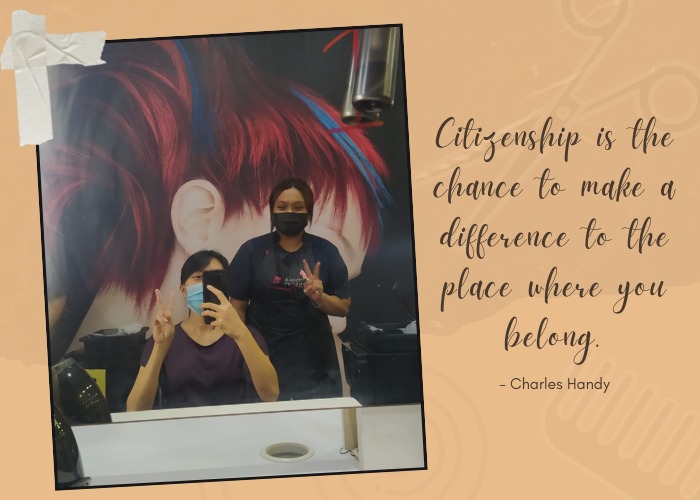 Today, Nina is an enthusiastic trainee in a Hair and Fashion Design programme offered by the Institute of Technical Education. Her fees are being met by a Pavilion EDIS Cares Bursary   and she has been approaching my colleagues to let her do their hair for free in partial fulfilment of her certification. Last Tuesday, was a very special day for her as she proudly showed us her newly minted Singapore identity card, "I am so grateful for all the help I have received but now I can get a job and be independent. Maybe, one day I can also help others like me."
Journeying with Nina and her family these past 2 years has heightened our awareness of how challenging life can be when we find ourselves marginalized or excluded in one way or another. Often, people simply accept their lot because when there is no more energy to swim against the tide, staying afloat is all that matters. We work at strengthening our socially inclusive society by constantly welcoming those on the margins to share our space. We do our best to lower barriers and build trust wherever we work.  
For peace, community, and mutual trust,
Gerard
We need to have faith in the future to make sense of the present. – Charles Handy